Erica Enders' stellar 2022 NHRA season hit the pause button at the U.S. Nationals on Sept. 5.
Fast-forward to the next race – the Pep Boys Nationals at Maple Grove Raceway in Reading, Pa., and Enders' highlight reel was rolling again.
Enders won for the seventh time this season by defeating her Elite Motorsports teammate Troy Coughlin Jr. in the final round of the first race in the six-race Countdown to the Championship.\
Enders clocked a 6.582-second lap at 209.72 mph to edge Coughlin's 6.601-second elapsed time at 209.56.
"It was an amazing day really," Enders said. "Ever since we set foot on this property, Bo Butner went to No. 1 on Friday, and we were No. 2 and after that run on Friday, every single time we let the clutch out and went down the race track we were low. I. think we accumulated every point here but one and that was definitely our goal coming in.
"This Countdown is going to be a dogfight as it is every single year. Giving up that 200-plus point lead coming in kind of sucks, but it is what it is. It was a pretty substantial lead, but we all play by the same rules, and we've won with it, and we have won without it so I'm just thankful for the success we have had. We know we have to capitalize on every moment and execute perfectly and we did just that (Sunday) so I'm really proud of my guys."
This was Enders' 40th win of her career and the seventh this season. It also is the first time she has won in Reading. She came in as the points leader in the Countdown and left town with an 81-point lead over second place Greg Anderson, the reigning world champion.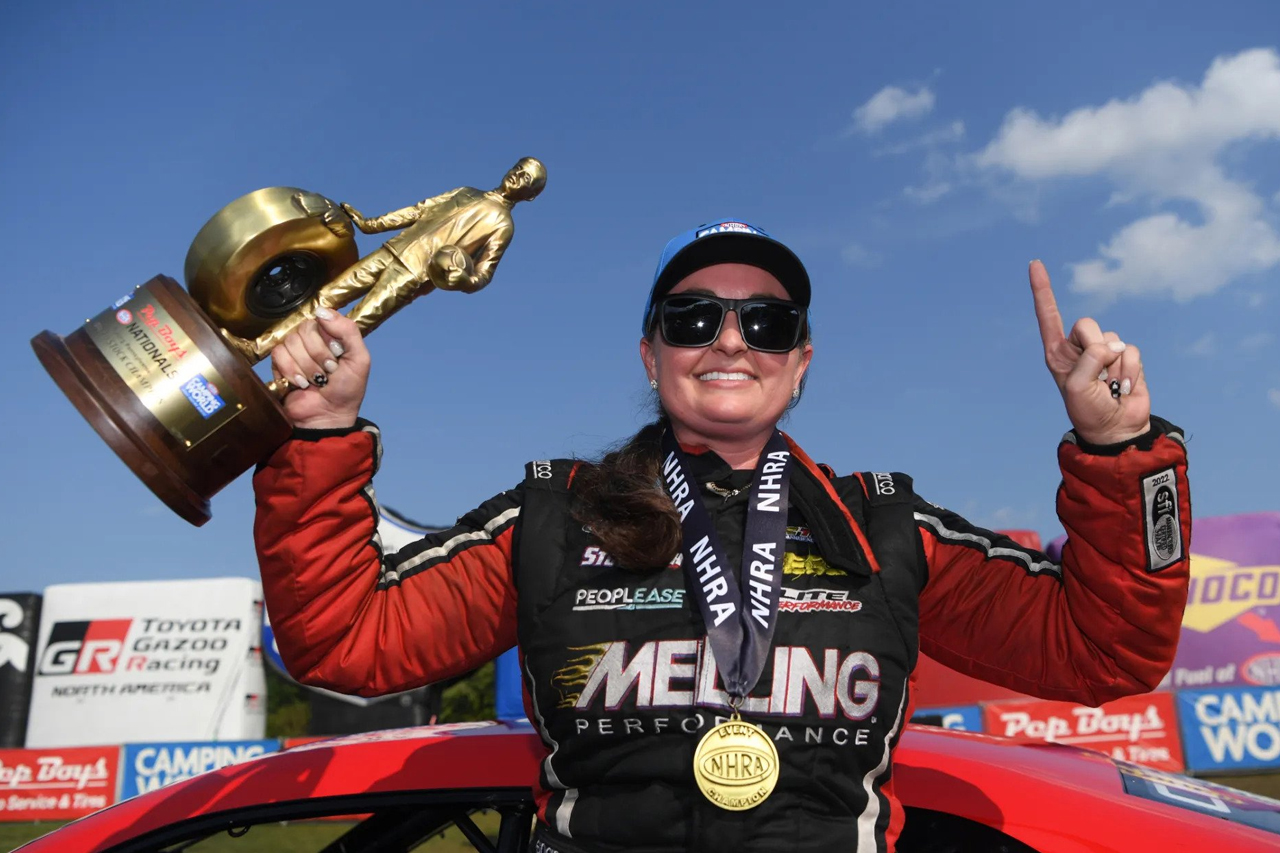 Enders has four NHRA Pro Stock world championships on her resume in 2014-15 and 2019-20.
"My guys really rally," she said. "They work hard, and we try to prepare the best that we can when we leave the shop to turn win lights on and again, we executed perfectly (Sunday)."
Enders' victory march consisted of wins over Alan Prusiensky, Matt Hartford, Kyle Koretsky and Coughlin. She had the low elapsed time of every round.
"It is definitely special," said Enders about her inaugural win in Reading. "It was a goal I wrote down on Jan. 1 this year that I wanted to win at the tracks we had not won at before and we started off on the right foot in Pomona (Calif.) this year. We won the World Finals, but we had never won the Winternationals and that was extra cool because it was the 900th Pro Stock race. Sonoma (Calif.) is on my list every single year and it had evaded us for 18 years and we got it done there and then we came here to Reading (and got it done).
"I'm thankful that we were able to capitalize on it. It is hard to win a round, let alone a race. These guys are super competitive, and it is super challenging to drive one."
When asked if she and her team were trying to send a statement in the first race of the Countdown, Enders didn't flinch.
"Absolutely," she said. "Hands down that was my goal. You never know when it is going to be your last and you want to do the best that you can every single time. Being a human, I'm the biggest variable. My guys give me a great race car week-in-and-week-out and sometimes I flubber and sometimes they do, but when our backs are against the wall, we seem to perform. It was definitely awesome to win and I'm definitely super stoked to start the Countdown out on the right foot. With a 20-point lead coming in here, that's only one round of racing. We accumulated eight points in qualifying and that was almost half a round and we got them all (Sunday) in eliminations. I'm proud of that and we just have to continue the trend. There are five (races) left and anything can happen. I'm a blessed girl."
Enders acknowledged gaining momentum in race one in the Countdown was a huge boost.
"As we all know, momentum is huge in any sport and we hopefully we can carry it," Enders said. "To start off on the right foot and get that jump on everybody, I would rather do that than be battling to make a comeback as the races close out at the end of the year. To have an all-Elite Motorsports final round was pretty awesome, a repeat of Seattle and I was glad to get some revenge on TJ because he busted us there. It was just a great weekend."
During her post-race press conference, Enders addressed who she had dedicated the race win to – Royce Freeman. Freeman passed away July 9 at the age of 83.
"Courtney (her sister) and I didn't really have grandparents growing up and he (Royce Freeman, Richard Freeman, the owner of Elite Motorsports, father) was kind enough to adopt us," Enders said. "I have been with Elite for 10 years now and he was kind of the only grandpa we had. He was a huge staple in our pit area and anybody who knew him, he was very vocal, a lot of fun and you probably needed a beeper around when he talked because he liked to swear a lot. He also always had a cigar in his mouth. He had a great heart and he's a big part of our organization and this weekend he would have been 84 and I wanted to get (that win) for him."
Recent Posts
Drag racing would be nothing if not for the support from friends that see the true value in what we …

Check out the latest new car to roll out of the renowned championship winning chassis shop of RJ …

Last season saw a jumpstart in Troy Coughlin Jr.'s Pro Stock career.Coughlin finished a career-best …