Erica Enders is an NHRA Pro Stock star. She has four world championships as proof.
And Sunday she checked something else off her bucket list.
or the first time in her decorated career, she won the Denso Sonoma (Calif.) Nationals.
Enders used a holeshot to beat her rival, Greg Anderson.
Enders, driving an Elite Motorsports Camaro, clocked a slower 6.574-second elapsed time at 196.62 mph to Anderson's 6.565-second lap at 208.01 mph.
The difference was at the starting line.
Enders had an .018 reaction time compared to Anderson's .049 reaction time.
"It's huge for us and as I mentioned down on the track, this race has evaded us somehow for 18 years with racing Pro Stock," Enders said. "So, every year I set my goals and Sonoma was on the list and we were finally able to capitalize on it. We've had a tremendous race car all year. My guys worked so hard in the off season to make up the gap that KB Racing had put on us last year and it's paying off. It's just really exciting for me and to be able to win this weekend, just shy of the finish line down there, my motor let go and just kind of went flat and I look left and I don't see Greg and I'm like, 'Please, please, please, don't run out of real estate,' and saw the beacon light up on the guard wall and it was just a significant win for me personally."
This was Enders 39th career Pro Stock victory. It was her sixth win of the season in 10 Pro Stock national events, and she also has one runner-up effort to her name. She also was the No. 1 qualifier.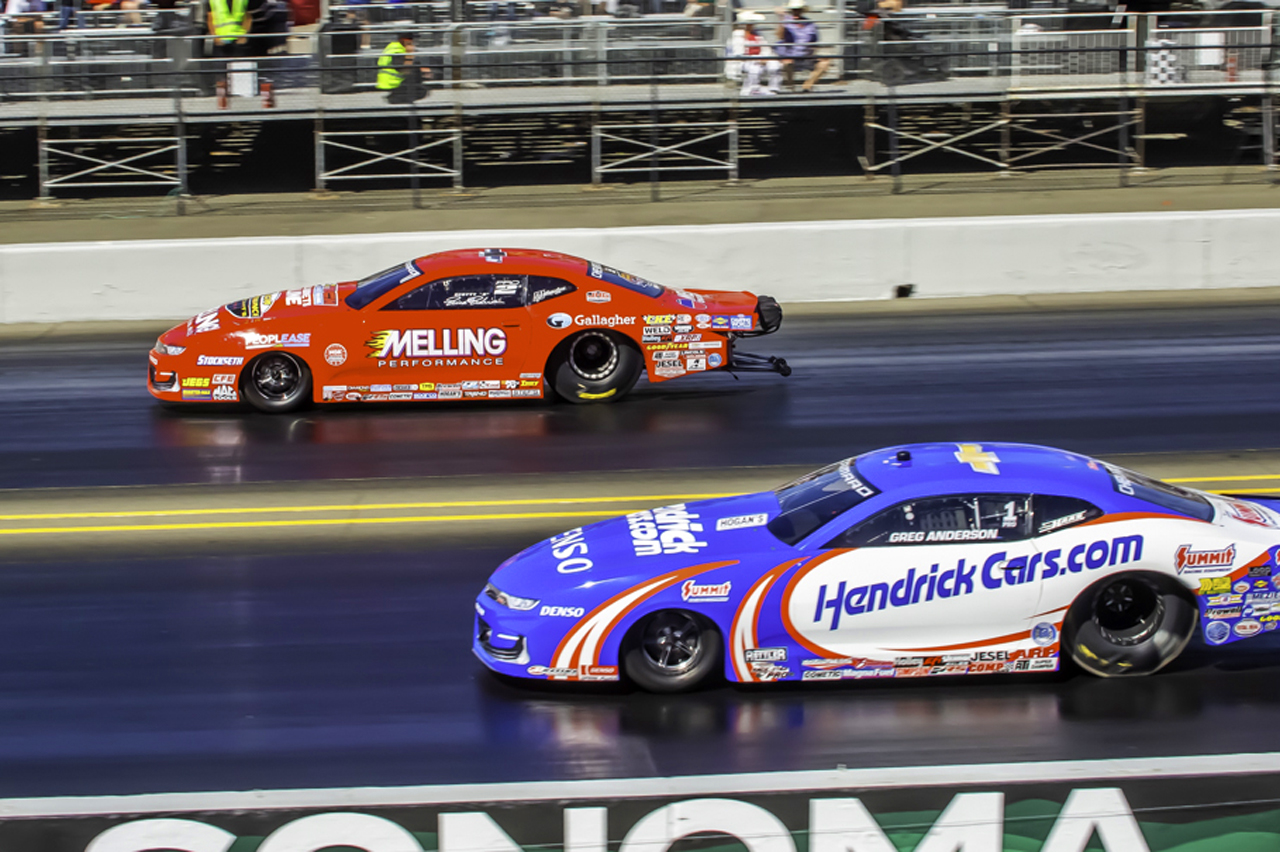 "We lost Grandpa (Royce) Freeman two weeks ago, just prior to Denver and we wanted to park this Melling Performance car in the Winner's Circle for him in his honor and his family has done such an excellent job of continuing his legacy," Enders said. "Even when he was alive, he raced Pro Stock back in the 1970s and instilled that love for NHRA drag racing in his three boys, one of which is Richard Freeman, who I drive for and Bryce Lee and Robert, who did my clutch for a lot of years.
"So, this is huge, and we wanted to win for grandpa. We have a grease board in our trailer and it's a to-do list and last week it was, 'Win Denver for grandpa,' and we erased Denver and we put Sonoma and we were able to get it done. So, this one means a lot for a lot of different reasons."
On Sunday Enders beats Fernando Cuadra Jr., Mason McGaha, who beat in the first round in Denver July 17, teammate Aaron Stanfield and then Anderson.
"I want to talk a little bit about the Cuadra boys and their dad, Fernando," Enders said. "Such a great addition to team Elite. Those two boys are badass behind the wheel. They've been on the wrong side of green the last couple of weeks, but as soon as they figure that out, they're going to be a force to be reckoned with. So, I knew I had to be on my game then. I was 11 on the tree. Second round, we had Mason McGaha who beat me on a whole shot, threw some stuff at the wall last week and it stuck. He was double oh three, I was 20 and he was able to turn the wind light on. So that was a little bit of a redemption there."
Then came the match up with her teammate – Stanfield. Enders is first in the points standings and Stanfield is second, 80 points behind.
"Racing Aaron in the semi-finals, my teammate, obviously, you mentioned we've raced in the finals a lot this year and been able to come on top quite a few times, but he's a super talented driver behind the wheel," Enders said. "I know the motors that are under his hood because they're the same ones I run. I know what the crew chief said he uses 'cause they're mine.
"So, that was kind of the round of the day. I knew if we could get past Aaron, we could park this Melling Performance car in the winner's circle. No disrespect to Greg, but we have this slight performance advantage on those guys right now and I wanted to run on mean up there. I knew he would probably be going for my jugular, and I wanted to go for his. So, fortunately enough, I was good enough on the tree to make up for our engine exploding at the finish line and again, to do it for grandpa, to do it for my Melling boys, it just means so much to me. I'm so excited."
As dominate as Enders has been in 2022, she knew nothing would come easier for in Sonoma.
"My sister's my ultimate hype girl," Enders said. "Even when I'm down in the dumps she makes me believe in myself even when I don't, and it is just crucial to be positive. And coming into race day, I know I have the car to beat right now. It's just it's the way the cookie crumbles and that will change. I guarantee it. But right now, all I have to do is go up there and do my job and not mess up. So, that was kind of my mindset today. Just crack the tree every single time with exception to Aaron's run because he rolled the beams. My eye transfer went to his stage bulbs instead of my drop. So, I was late there, but all day long, I think we were 11, 20, 18. So pretty consistent there and I'm super stoked and it takes me back to my first win in 2012 against Greg Anderson who didn't want to be the guy to get beat and he was, and it was awesome."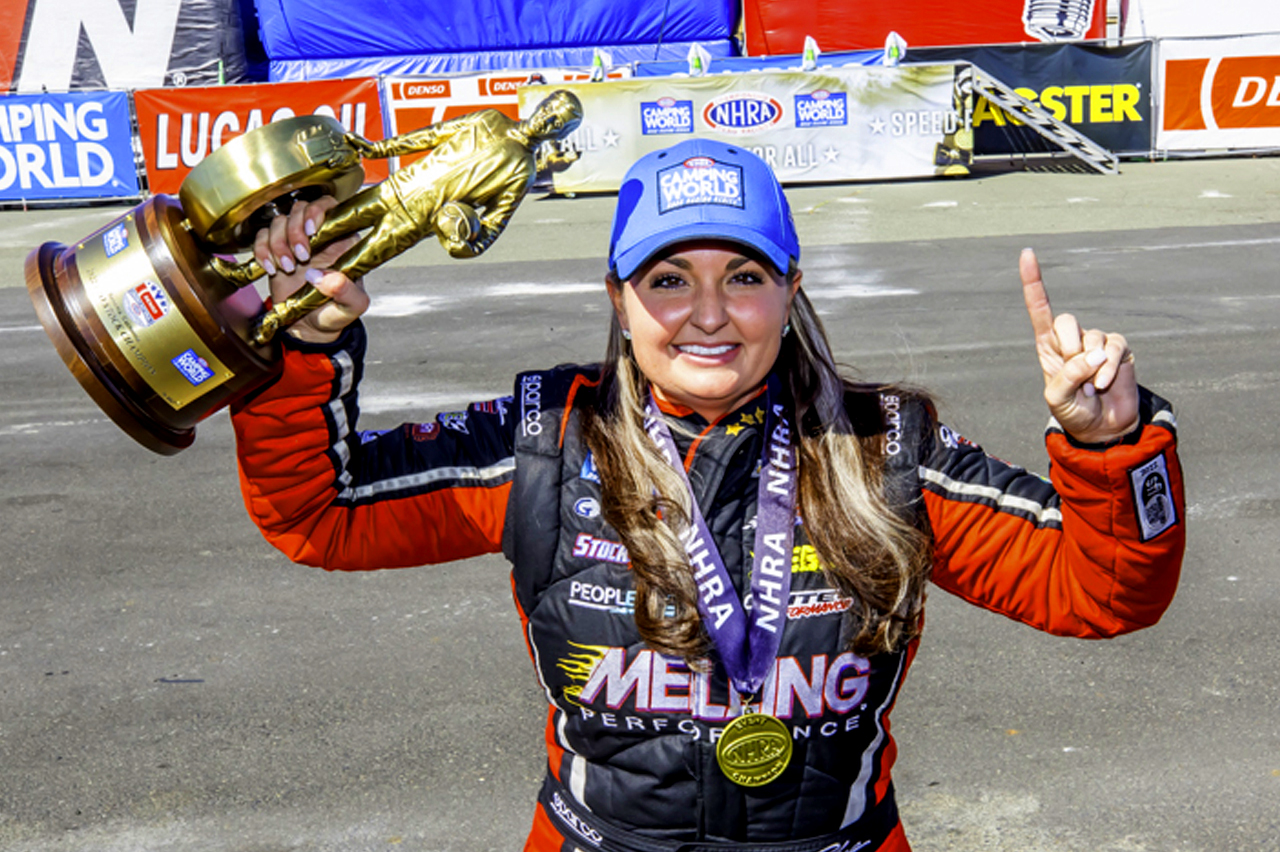 Enders has 39 Pro Stock national event wins but relished sharing the winner's circle with first-time national event winner Joey Gladstone in Pro Stock Motorcycle.
"Being able to share the Winner's Circle with Joey Gladstone is so significant," Enders said. "Courtney (Erica's sister) and I said, 'Today is your day, man. This is your third final round. You are winning today,' and that I'm honored to share the Winner's Circle with him because this is something he'll never forget and being able to capitalize on Sonoma is something that I'll never forget. Then going to Seattle, it was my second win ever and the first time two Pro girls won, me and Courtney Force, so that stands out in my mind as well as we head there next week. Just an amazing day. I give God the glory and I'm so stoked. I know I don't show it very well. My dad says, 'Act excited,' and I say, 'I am excited,' but I really am excited. I'm so happy."
Enders this version of herself winning for the first time in Sonoma is far different than when she started competing in Pro Stock.
"My sister's younger than me, but she's way stronger than me mentally and she's helped me along the way, and she has way more street smart," Erica said. "So, it was definitely a battle, but I would tell my younger self to not care so much what other people think and what the internet says about you. You're living a dream and those people are sitting on their mom's couch in their basement. So, I love what I do. I'm blessed to do it and the people, the naysayers just they don't matter. They suck.
"So, I would tell old Erica not to listen to all that crap and it's just jumble in your ears and to focus on the main goal. And if I could have learned that a lot younger and acquired thicker skin at a lot younger age, it would've been a significant advantage. But this Erica is way different than Erica five years ago, but for sure, different than Erica 18 years ago 'cause I used to make my sister ask for ketchup at a restaurant 'cause I was too shy."
Recent Posts
The final round in Extreme Pro Stock was a rematch of the 2021 final round, with JR Carr taking on 2 …

There have been plenty of valleys in the 2022 NHRA Pro Stock season.However, through hard work Troy …

Erica Enders is an NHRA Pro Stock star. She has four world championships as proof.And Sunday she che …