Rick Jones is well-known as the builder of some of drag racing's quickest, fastest, and most successful doorslammers, from Pro Stock and Top Sportsman to Radial vs The World and Pro Modified. Jones has built a chassis-building and performance parts empire that's virtually synonymous with the sport over the last 30-plus years, and it all began with a comparably simple 1969 Chevrolet Camaro.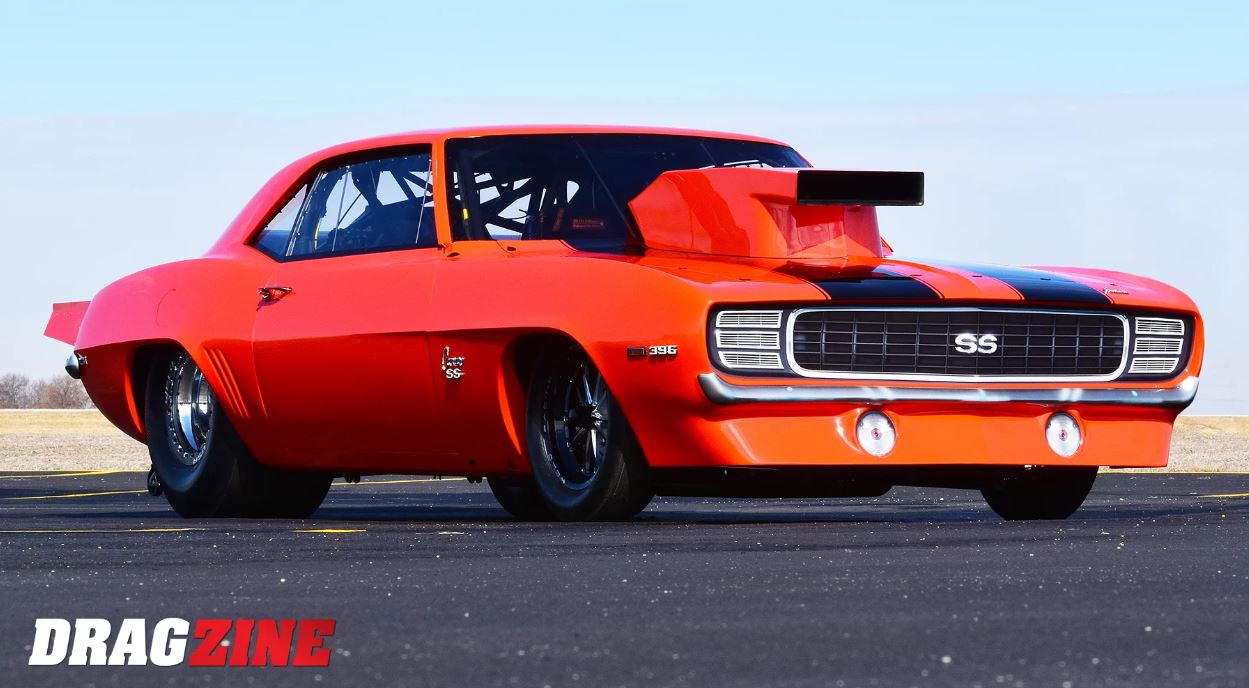 In an improbable tale with a storybook ending, Rick was recently reunited with his first love, his 1969 SS-396 Camaro, to begin a second chapter.
Purchased in 1978 while he was but a mere senior in high school, Rick's Camaro went through a series of continuous upgrades in his drag racing quests. The car was rebuilt each time — lighter, faster, and able to handle more power — and each update included improved suspension, roll cages, and other chassis trickery. The Camaro was an eight-year project car where Rick honed his fundamental skills as a chassis fabricator in his garage.

You can read part one of this store here: https://quartermax.com/news/rick-jones-reunited-with-his-first-race-car-after-32-years/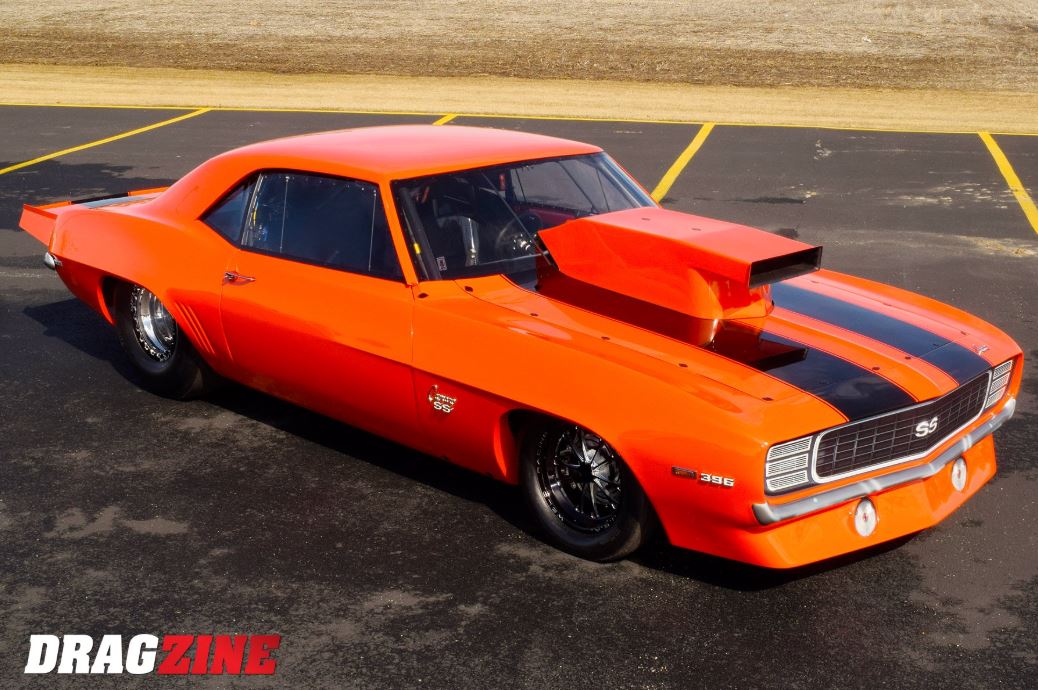 The Camaro went from slapper bars to a 2x3 square-tube chassis with ladder bars to a tubular frame with what was a state-of-the-art ( at the time) 4-link rear suspension.
As Rick Jones Race Cars continued to grow as a business, so did a family with his wife, Bonnie, with whom he had his first date in this very car. "Like many racers, the large shop on our first property meant as much as the house did," Rick says. "What started out as doing small chassis jobs for other racers continued to grow until I was building complete race cars in my new shop."
As any entrepreneur who's had to sell prized possessions to fund their business ventures will tell you, one of the most difficult decisions Rick had to make was to hang a for-sale sign on his pride and joy. He needed upgraded shop equipment, and with the increasing time spent on customers' cars, the Camaro was sitting still. Selling it was a hard — but at the time, necessary — decision he made to grow his business.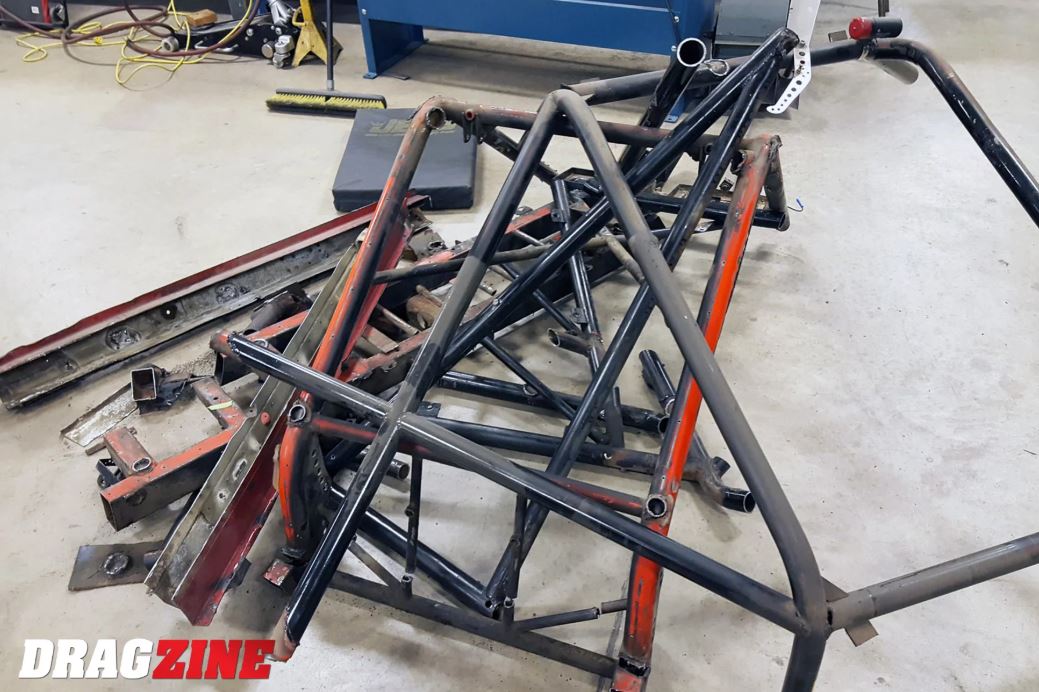 What began as a project intended to move a few tubes to provide more leg and headroom ended up with the entire former chassis cut apart and laying on the shop floor in a pile.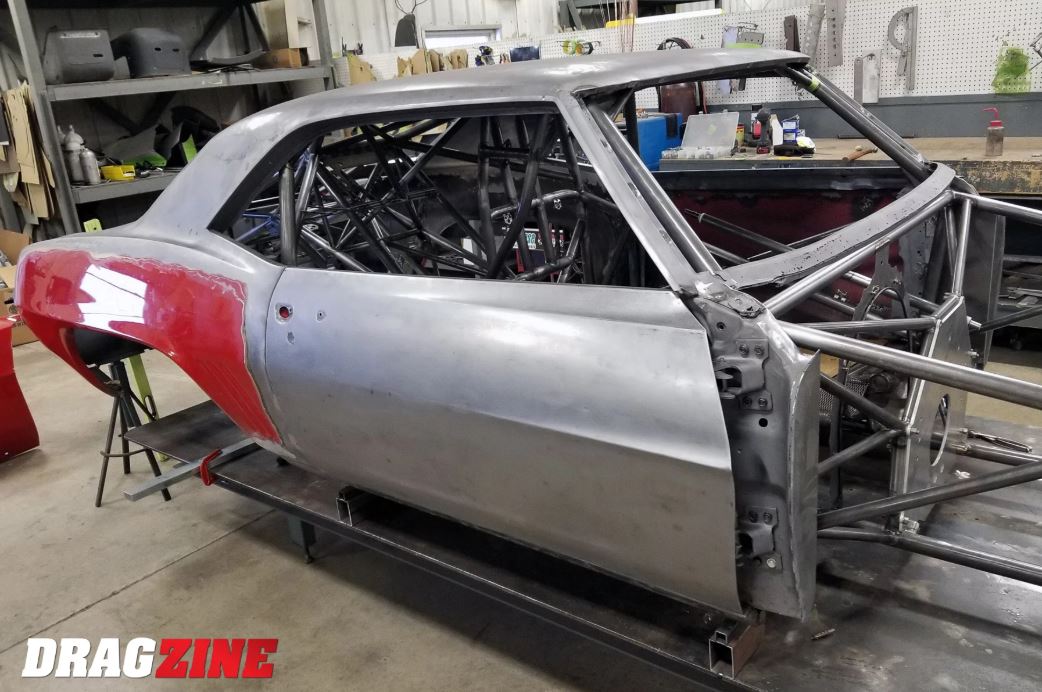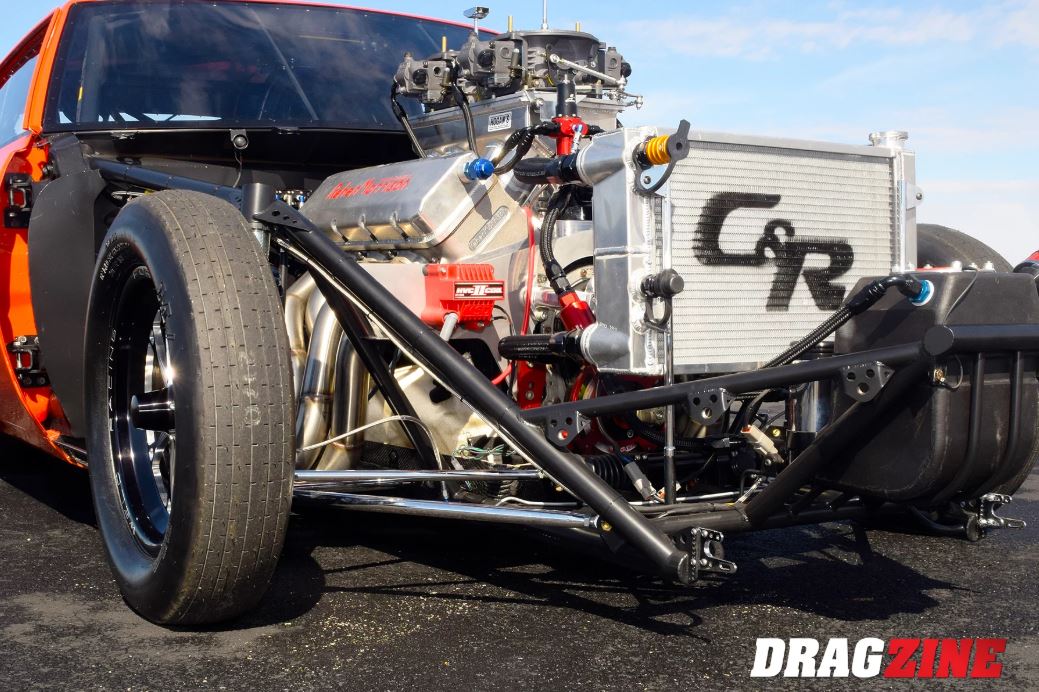 "I had seen the car here and there a few times over the years, but I tried to stay away from it," Rick confides. "Tony Quinn that works in the shop told me for years he had seen the car and I should try to get it back. But I said, 'that part of my life is over, that chapter is done and gone.' "
Fast forward to 2018 and Rick heard from one of his friends, Ralph Haga, who had found his old Camaro SS in Des Moines, Iowa. And it was for sale. When Rick saw it close up for the first time in over 33 years, a flood of memories enveloped him and it was all over but the writing of the check. Haga helped negotiate with the owner for a few weeks and was able to finally close the deal.
"I saw a hundred details on the car I fabricated that I had forgotten. At one point, I quietly said, 'this is my old friend.'"
"We went to look at the Camaro and I was just taken back," Rick jokes. "I walked around it kind of in awe. It was kind of the way a customer walks around their new car in our shop when they see it for the first time. I saw a hundred details on the car that I fabricated that I had forgotten."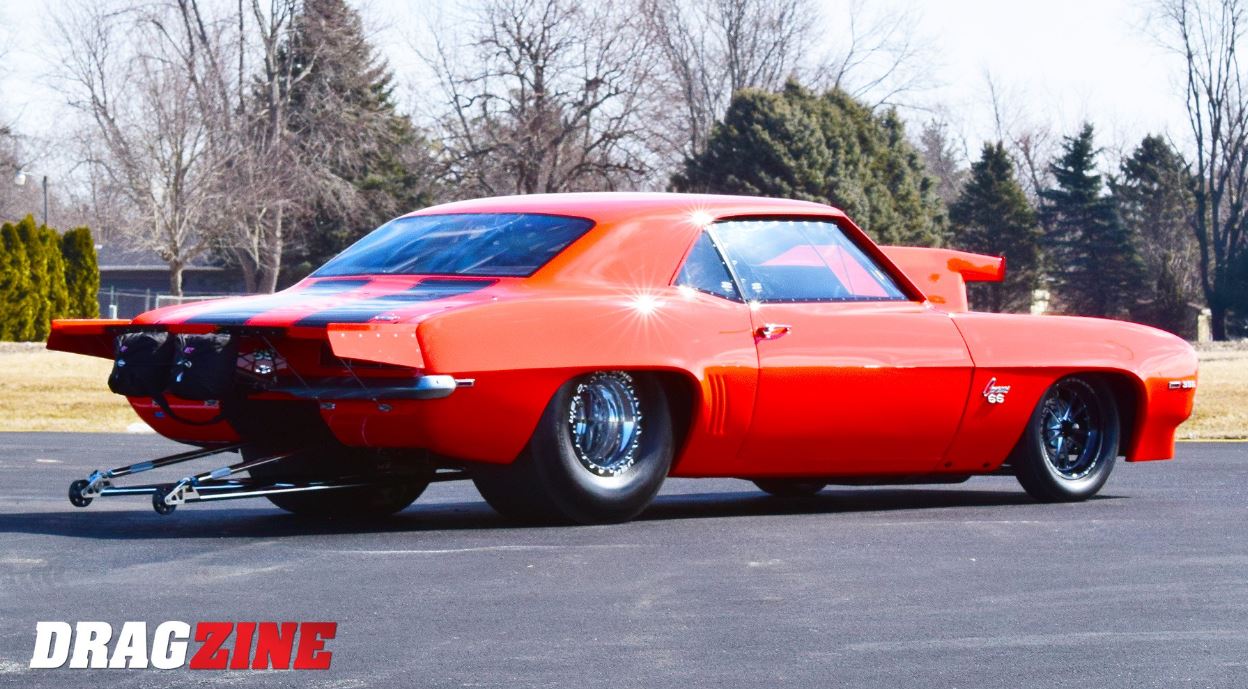 Once back in the shop at RJ Race Cars and Quarter-Max Chassis and Racing Components in Galesburg, Illinois, Rick intended to leave the Camaro in all of its former glory. But a chassis builder doing that would be akin to asking a top chef to peel the wrapper from a fast food hamburger. Rick says, "I planned to clean it up and go have some fun. But JJ Coe, my shop foreman, said it best: if I had owned the car continuously through the years, I would have continued to remove, replace and upgrade the Camaro anyway."
And so Rick and his team set off to fully reimagine this old friend, utilizing man-hours in the narrow timeframes not spent on their busy list of client cars to complete it over a number of months.
The new Camaro now features an SFI 25.1H 4130 Pro Stock-style chassis with design features often added to his trademark professional-level cars. The factory-correct 108-inch wheelbase chassis is set up with an RJ Extreme Adjustable Billet 4-Link Rear Suspension System.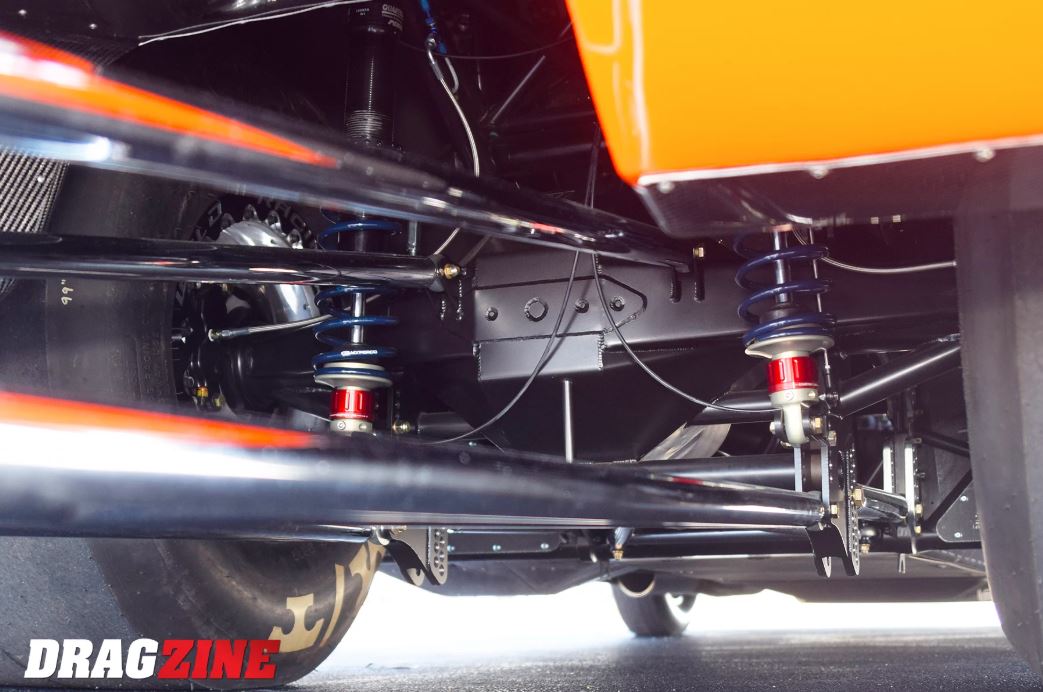 Rick's own Quarter-Max custom 4130 sheet metal 9-inch ford rear end houses a Strange Engineering Ultra Case third Member and Strange 2-piece, 40-spline axles.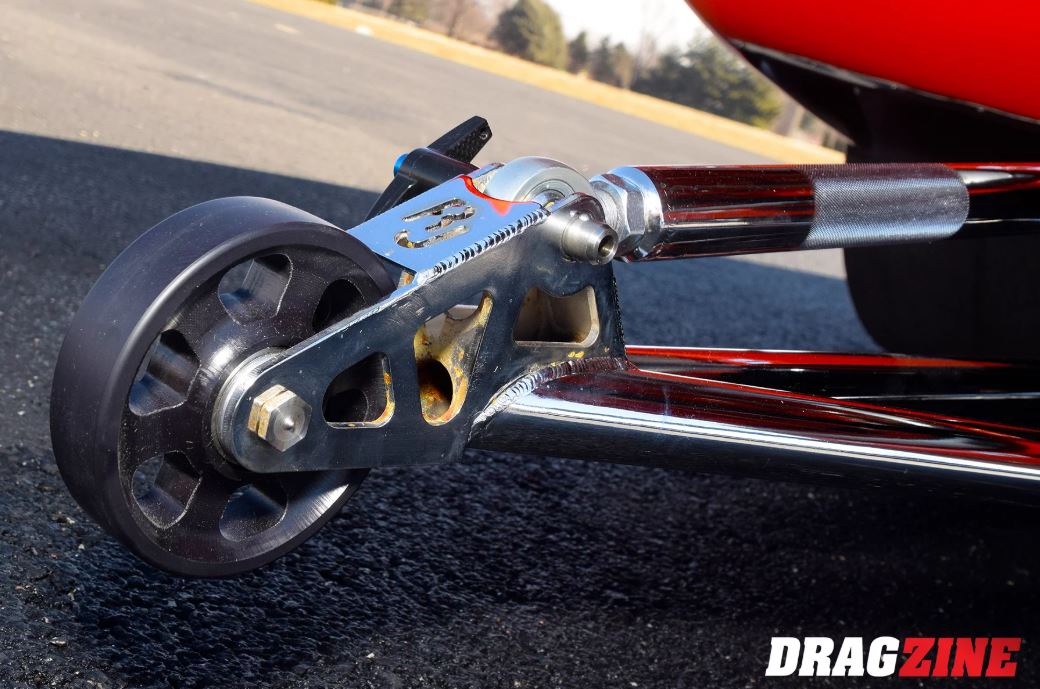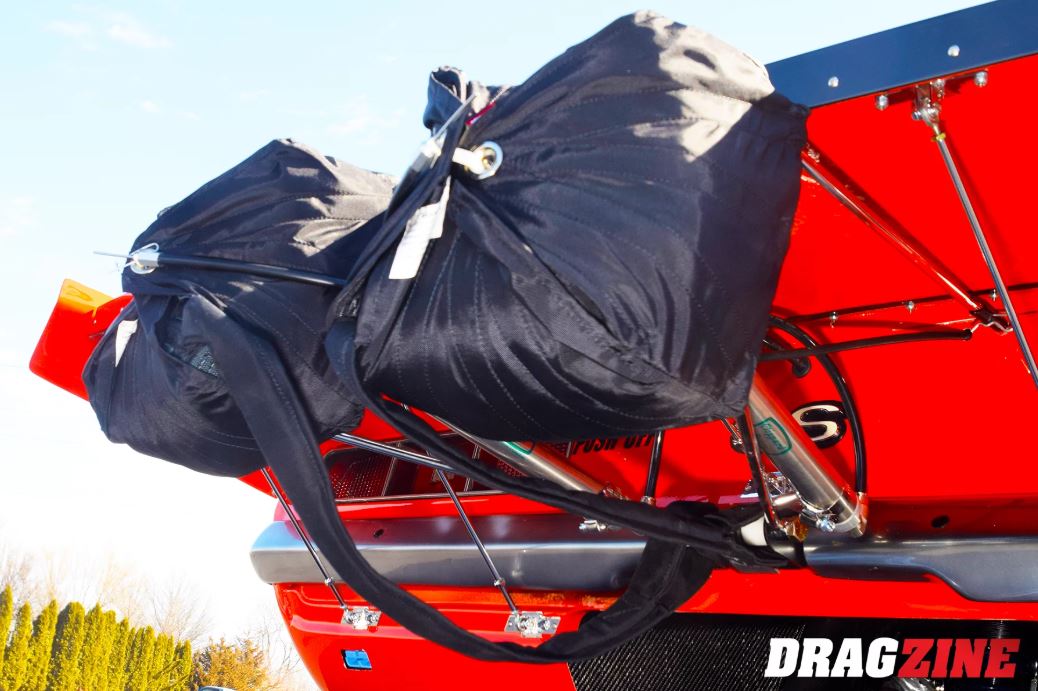 The rear suspension rides on Penske 7500 series double-adjustable, pneumatic shocks and a Quarter-Max Extreme Pro Series Wishbone locator. There is also a Quarter-Max 2-inch Splined Extreme Anti-Roll Bar. Hardware throughout the front and rear suspension features Aurora Bearing 4130 rod ends.
The Camaro's original stock steel roof, quarter panels, and doors are mounted to the chassis along with a Glasstek Fiberglass front end, hood, and deck lid. One of Rick's personal desires was to find an original snorkel-style hood scoop as he initially had on the car. The guys from Glasstek custom fabricated an old-school reproduction scoop by hand to match the vintage photos Rick had provided.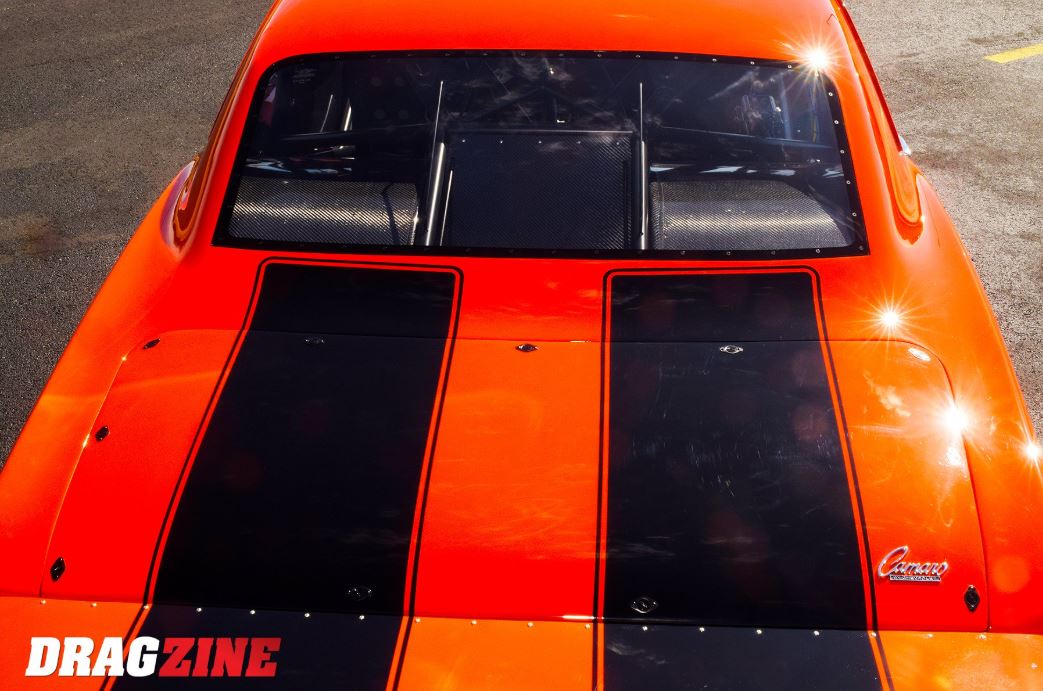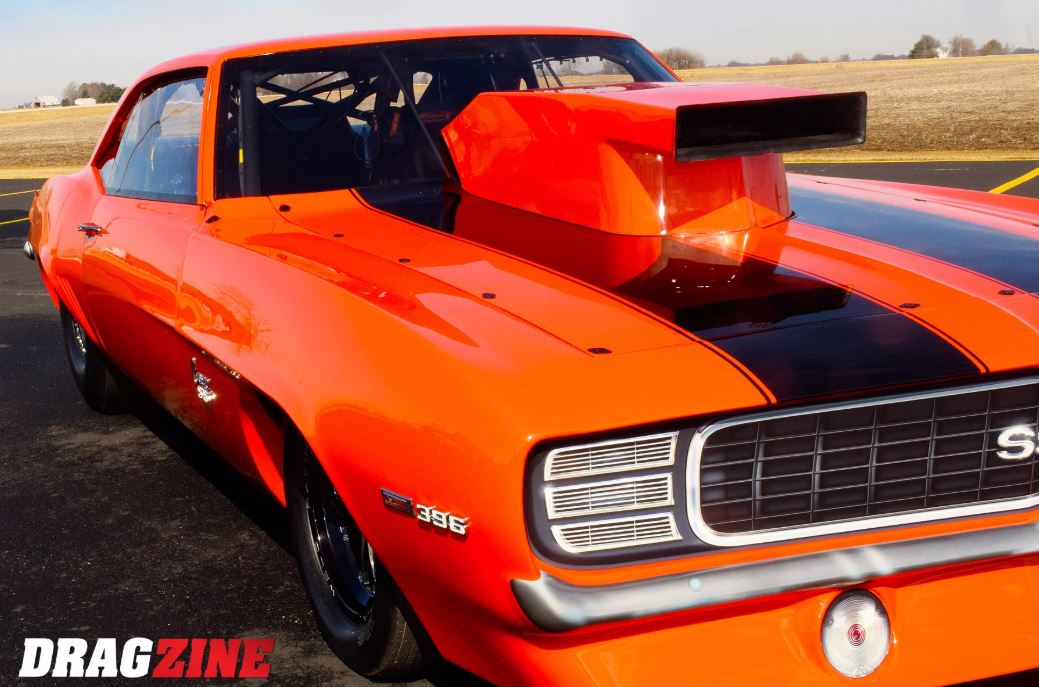 Longtime friend Carl Root from Washington, Illinois, did the bodywork and applied the original Hugger Orange paint color with black SS stripes supplied by A&B Paint Supply.
Referring to the flawless PPG Hugger Orange paint, Rick was on the fence about working out a name for the Camaro … something it had never had. Later, he told us that he has decided on My Orange Crush. He plans to subtly letter the moniker on the rear spoiler. Always orange, the "crush" stems from his longtime love for first-generation Camaros, especially this particular one.
"I want to commend all our shop fabricators who pulled out all the stops to make what is an RJ Pro Stock chassis inside of the old Camaro," Rick continues. "I think the interest was sparked as soon as the shop guys got a glimpse into my past. They saw small brackets and tabs that I had hand-fabricated back when I was younger than all of them. That was a very cool moment."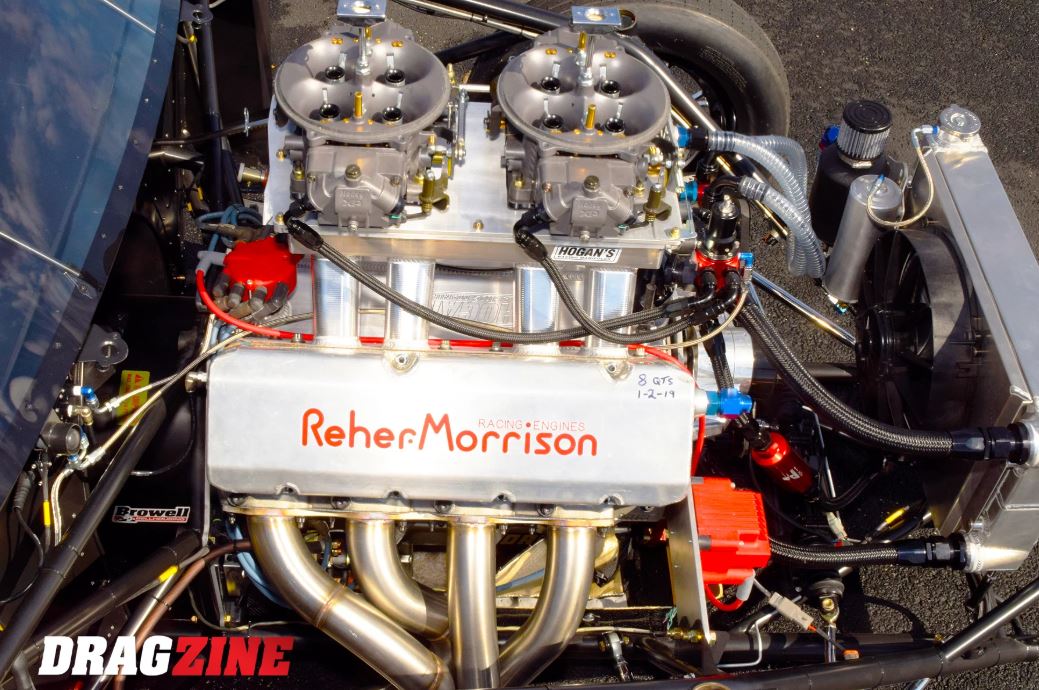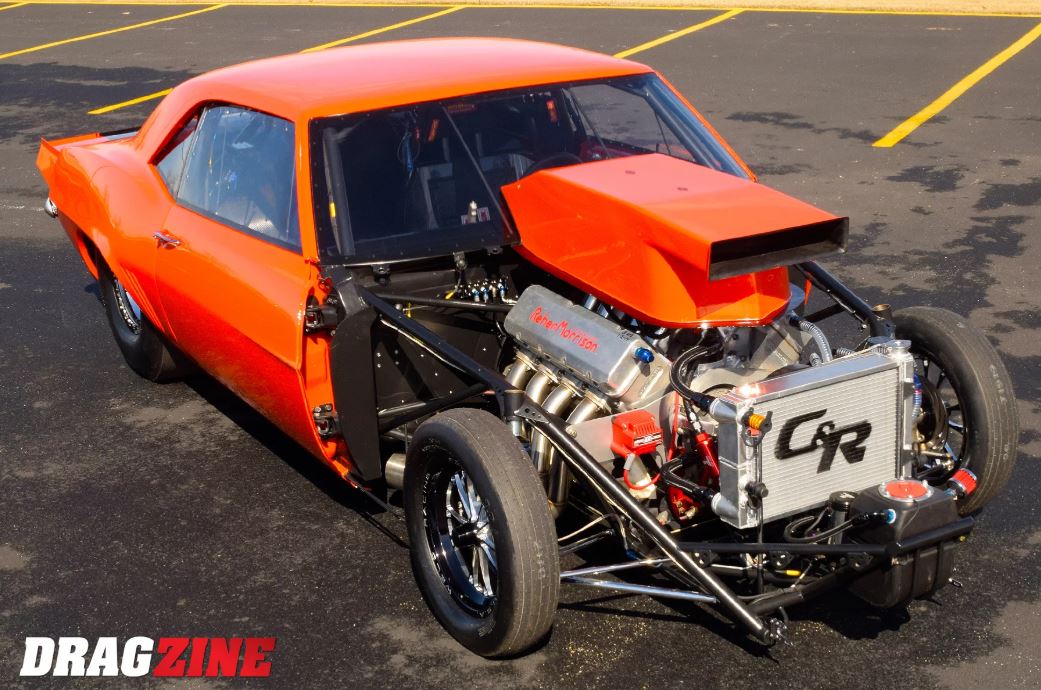 The Camaro is currently powered by a Reher-Morrison 565-inch engine with a Hogan sheet metal manifold and dual Holley 1050 CFM Gen 3 Ultra Dominator carburetors.
The 565 engine utilizes 23-inch Dart Macninery 355 Pro 1 CNC aluminum heads, a Dart "Big M" cast iron block, and Reher-Morrison's lines of pistons, rods, and crankshaft. An Aeromotive Fuel Systems A2000 fuel pump, custom RJ fuel cell, and four-port Pro Stock regulator round out the fuel system.
As far as powerplants go, this is just a starting point for the Camaro. Once the overall car is tuned-in, Rick is certain his close friends at Elite Performance will get the nod for something bigger and badder.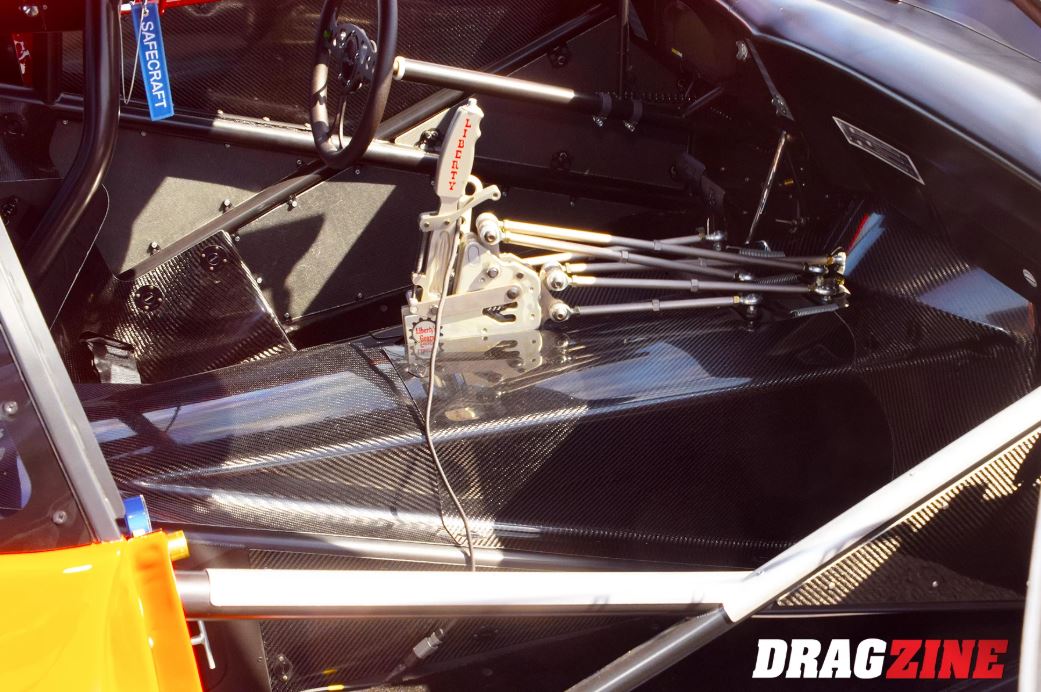 Take a look at the sea of trick carbon fiber created from Quarter-Max panels. The Liberty 5-speed shifter is a must for Rick, stemming from his past where he taught himself to power shift the original 4-speed on country roads in this very car.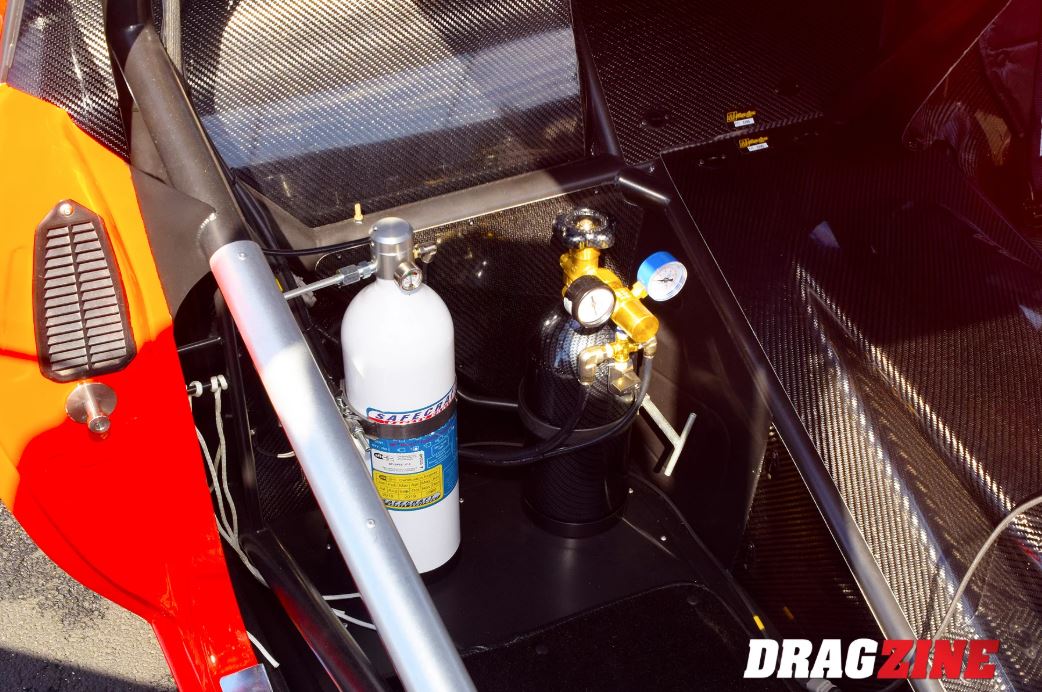 Peering inside the Camaro, the wheel tubs, trunk, floor, wrap around seat, transmission tunnel, and door panels are all custom carbon fiber construction from Quarter-Max. You'll also see an MSD Ignition brand Power Grid ignition linked to a Racepak Data Systems V300SD data system and a Quarter-Max 12-inch Lightweight Steering Wheel.
Under the shifter is a Liberty Pro Stock Z 5-speed transmission, McLeod Racing 10.5-inch soft lock single disc clutch and an aluminum flywheel inside of a Browell 8 5/8-inch SFI 6.1 aluminum bellhousing. Polycarbonate windows by Five Star Race Car Bodies fill the Camaro from front to back.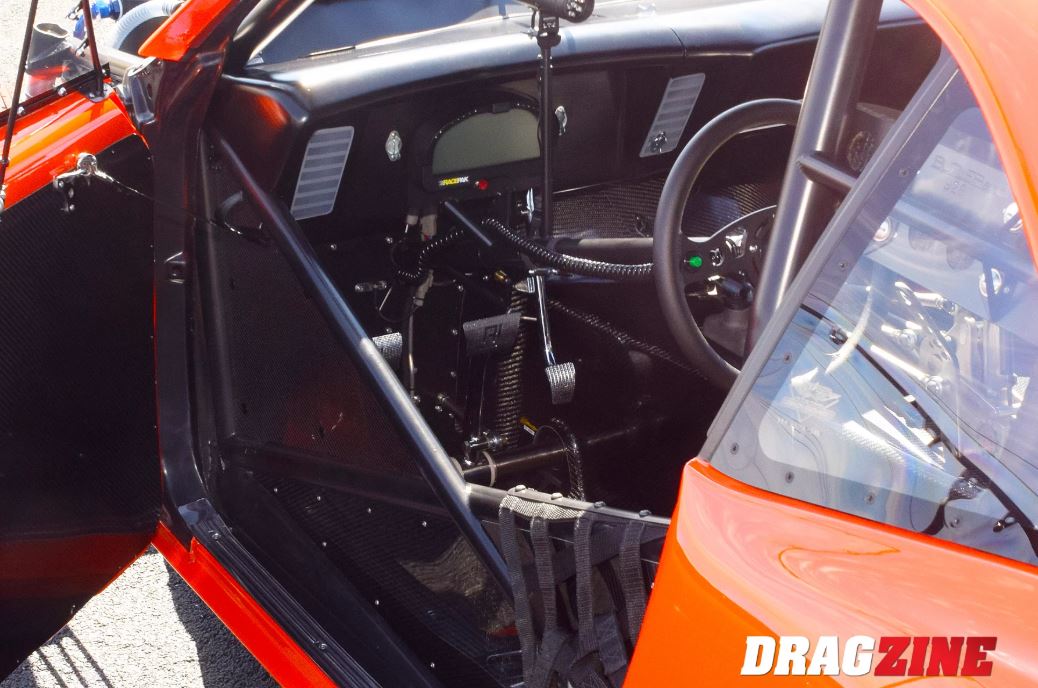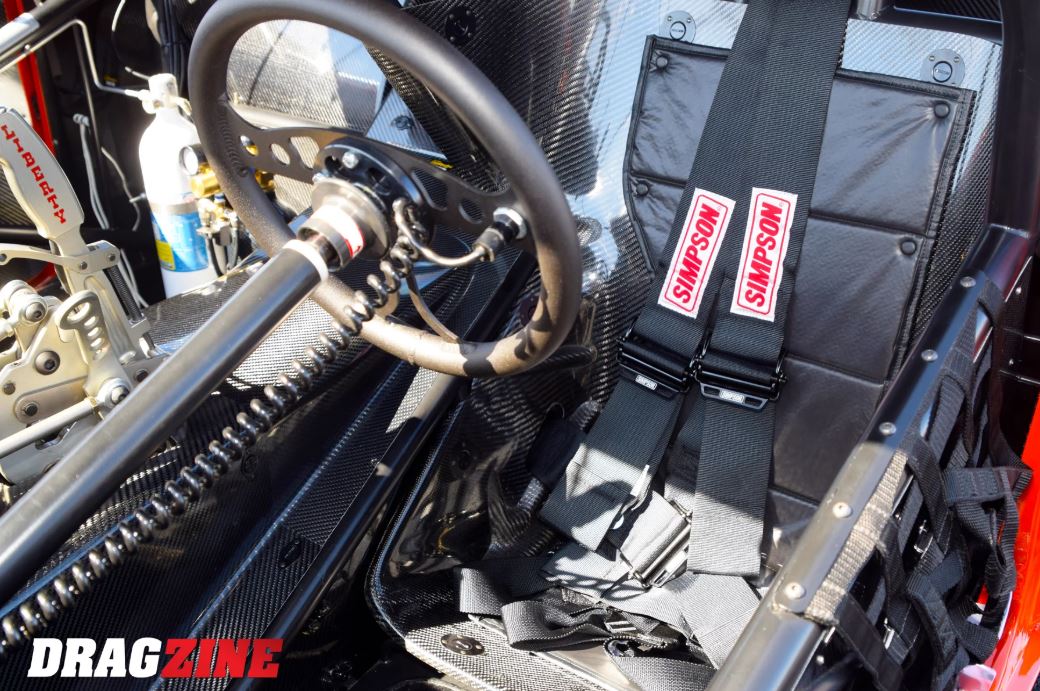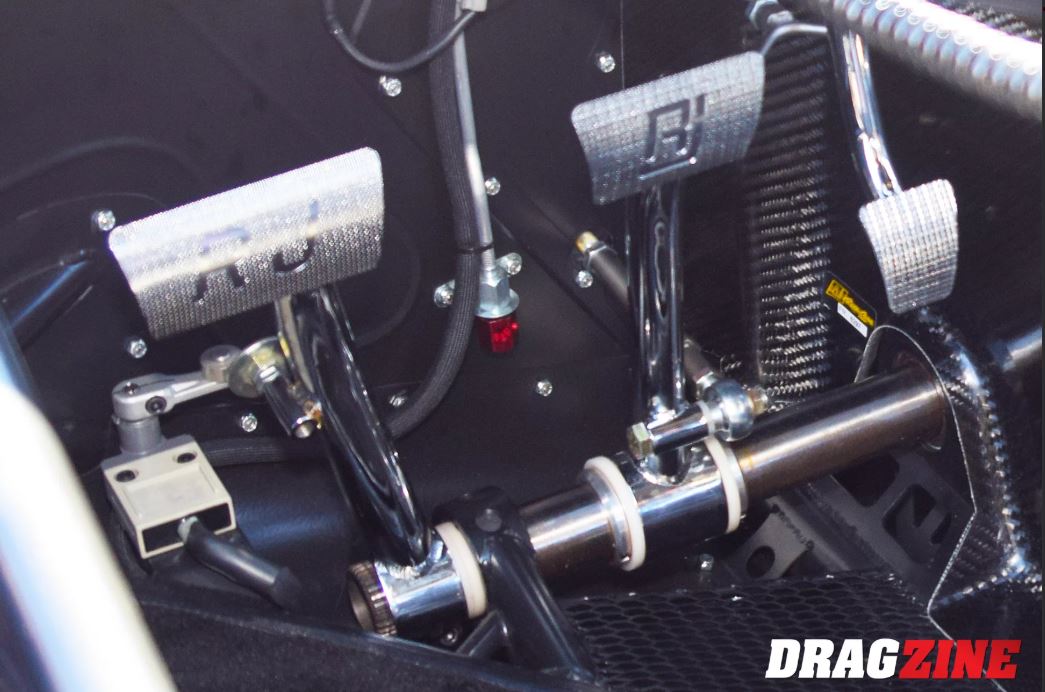 As we toured around the car, Rick pointed out some of its interesting points. He spoke not just about the Camaro's history, but also some tales about himself.
"There is a Camaro dash emblem on the new fiberglass dash," Rick continues. "I regretfully chopped out the original dash long ago, but I kept the original 1969 emblem in a toolbox all of these years. It was a real moment to put the two back together."
The front and rear brakes are Strange Engineering pro steel hardware with a Strange master cylinder mounted to the Quarter-Max Pro Series Pedal assembly. Rolling stock includes Weld Racing Wheels 15- x 3.5-inch black front V-series spindle mount wheels and Weld Racing 15- x 15-inch V-Series double deadlock wheels in the rear. Mickey Thompson Racing Tires 14- x 32-inch rear tires & 25-inch front runners are on the ground.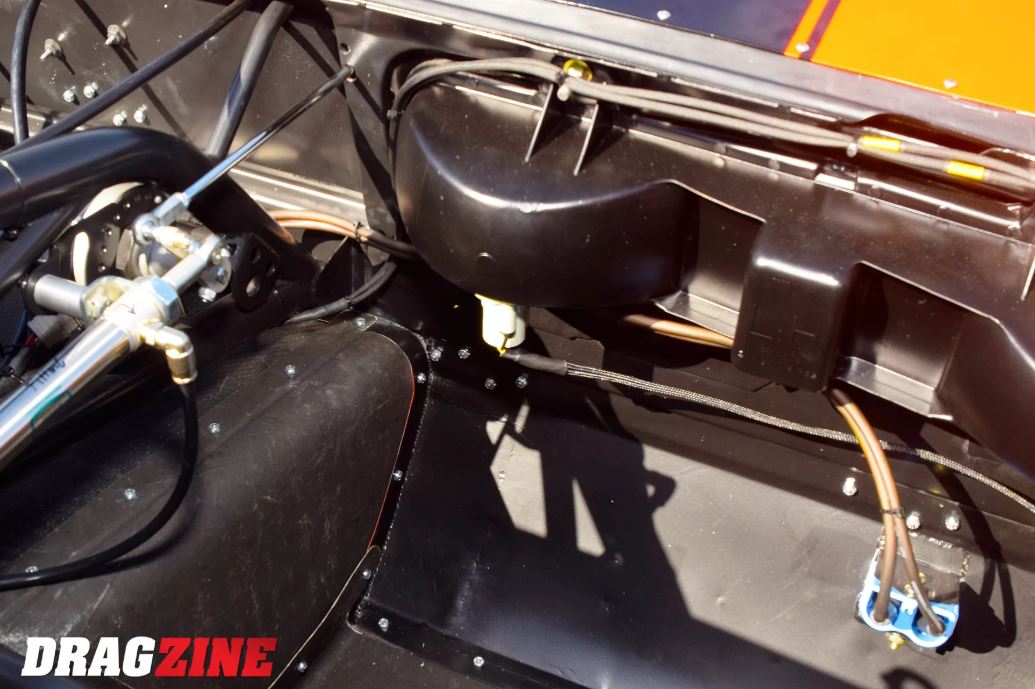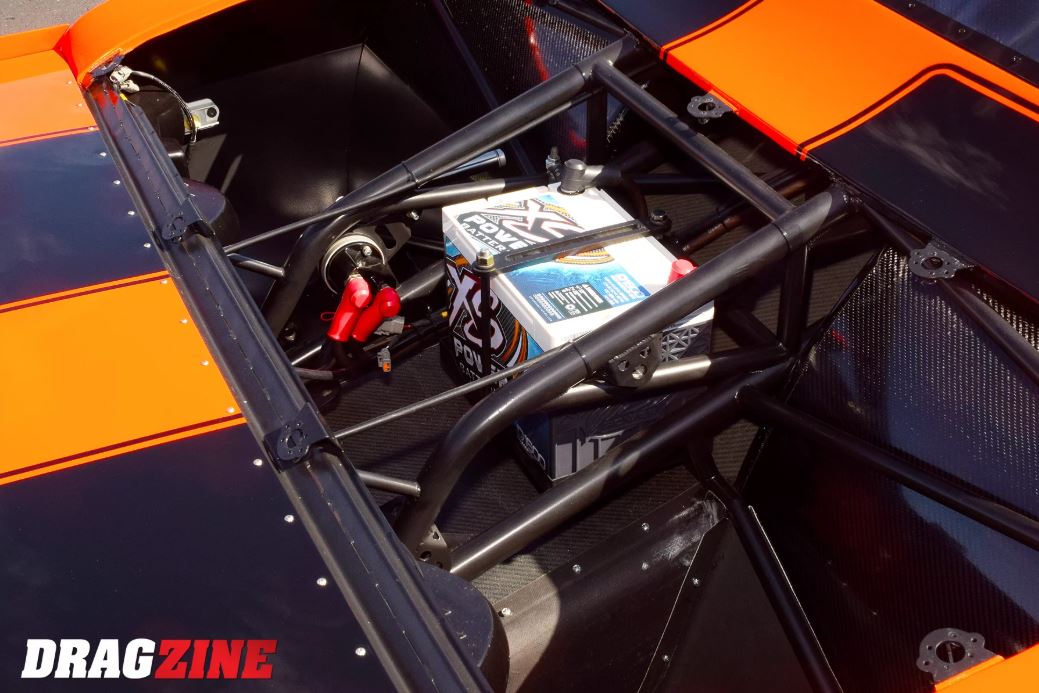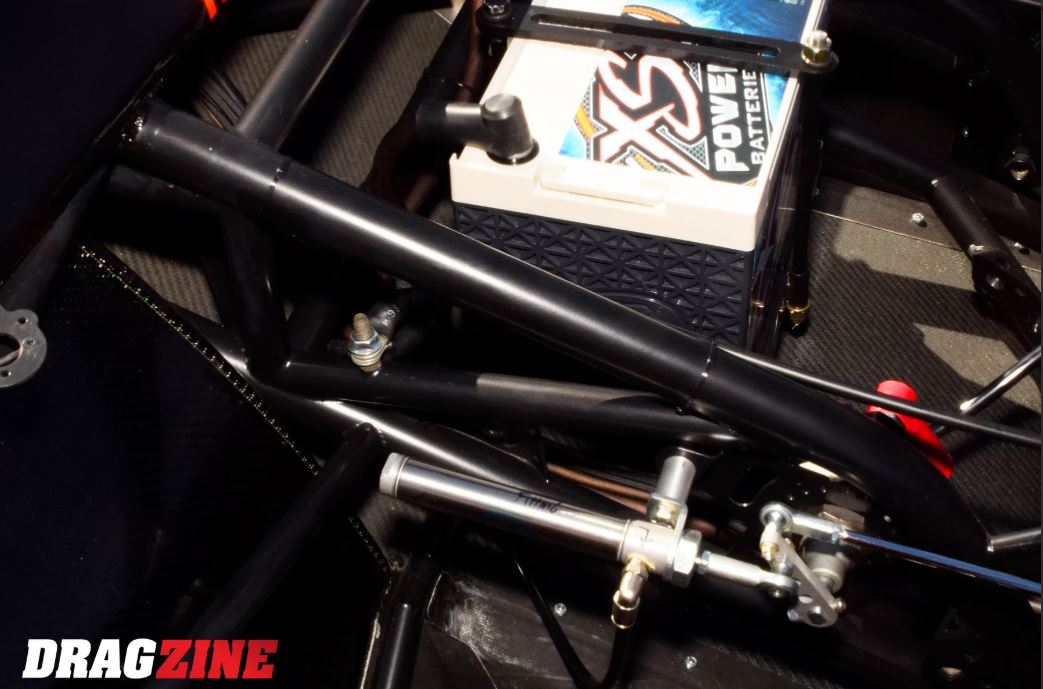 Within the trunk area Rick pointed out, "As soon as I saw the taillight housings in the trunk, it hit me when I remembered a couple of small marks; they are the originals. We carefully restored and reinstalled any original pieces like these that we could find."
To keep the Camaro cool and charged, a C&R Racing 56mm radiator, Meziere Enterprises water pump, and XS Power 16v battery are ready to perform those duties. Safety equipment Rick will use include Stroud Safety seat belts and window net plus Simpson Race Products air boss chutes, fire suit, and helmet.
"We have our eye on competing at some Ozark Mountain Super Shifters races with the car," Rick shares of his aspirations for the Camaro. "They're a great bunch. We also look forward to attending some special events close to home including the Cordova Dragway World Series of Drag Racing."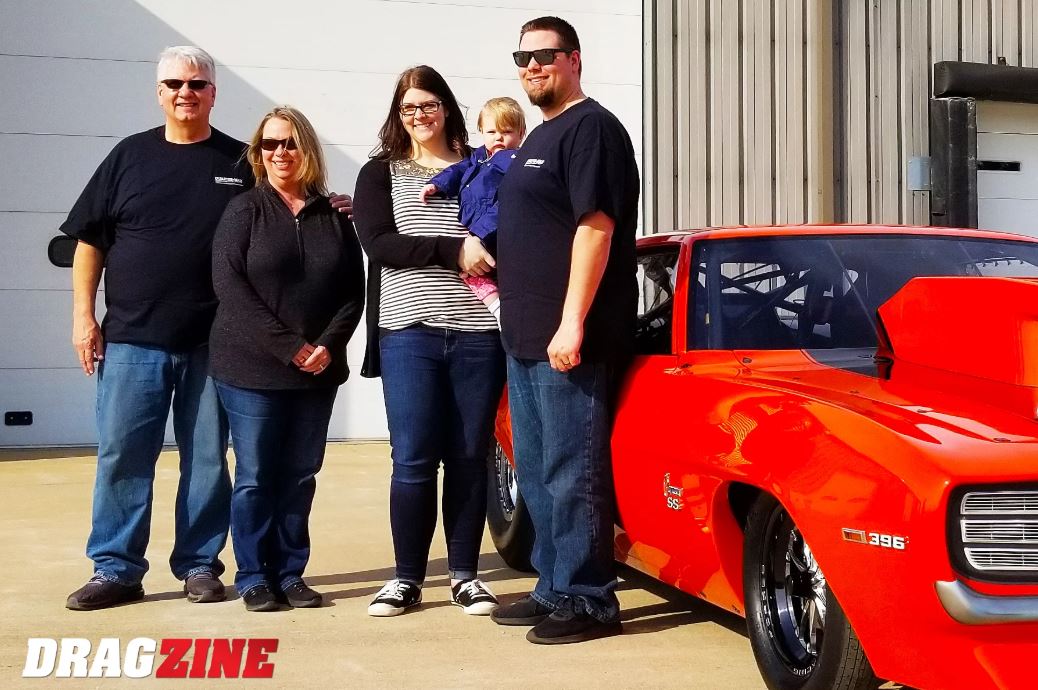 Rick is not bashful when asked to explain his intentions for his resurrected race car. "This is strictly for our family: Bonnie, Rickie, my daughter-in-law, Sarah, granddaughter, Ava, and our future grandson and I plan to go to the track and just enjoy ourselves."
Rick is beyond thrilled to soon get the old Camaro back out and you can hear in his voice what this car, what this project means to him, at a time in his life when can slow down, relax and fully enjoy it with his growing family. Completed last fall, Rick — and even son, Rickie, who wasn't even born when Rick sold this gem — will turn loose of the beautiful machine in the coming months when not serving in a crew chief capacity for their Pro Stock customers. Rick smiled as he said in closing, "We spend a great amount of time supporting our customers at professional events; racing the Camaro will be our escape."
Recent Posts
Drag racing would be nothing if not for the support from friends that see the true value in what we …

Check out the latest new car to roll out of the renowned championship winning chassis shop of RJ …

Last season saw a jumpstart in Troy Coughlin Jr.'s Pro Stock career.Coughlin finished a career-best …