Northeast Pro Modified racer Mike Achenbach made a successful and impressive return to competition in January at the U.S. Street Nationals after a high-speed crash last fall at a Northeast Outlaw Pro Mod Association (NEOPMA) race. And it was the efforts of Rick and Rickie Jones and the team at RJ Race Cars that made the turnaround possible.
Achenbach lost control of his nitrous oxide-assisted Chevrolet Camaro — believed to be a result of an improper strut setting — at the Maryland International Raceway in September, striking the wall and turning onto his roof in the shutdown area. Achenbach was briefly knocked unconscious in the melee, but awoke to the devastation of the racecar.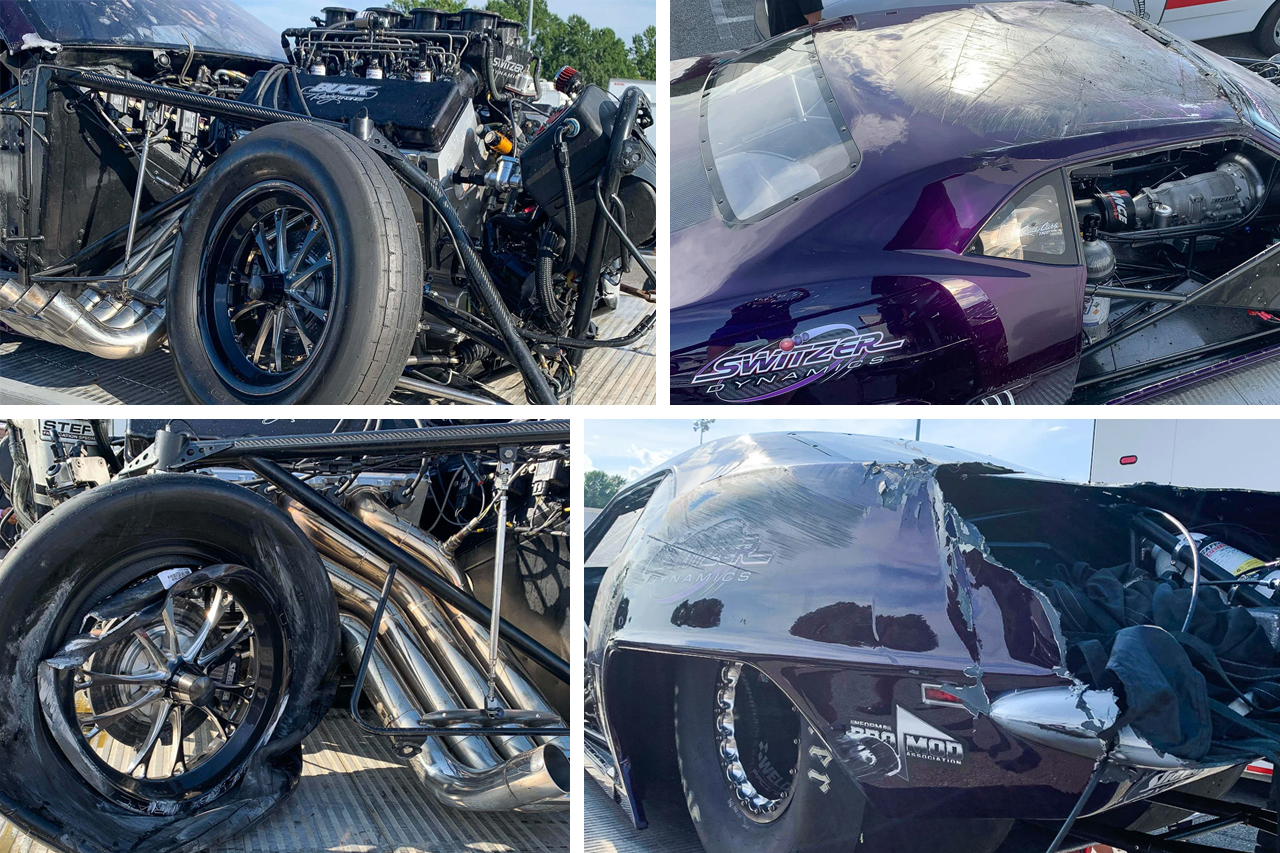 "The car went right, then left, then went hard right, and I knew it was going directly into the wall," Achenbach says. "I let go of the wheel and it hit and knocked me out. Then the nitrous lines broke and it was spraying on me, and the battery cables shorted out and caught the inside of the car on fire while I was trying to get out."
Achenbach and team got home from the ill-fated race, stripped the body off and removed the running gear. Within days, the Camaro was at RJ's shop in Galesburg, Illinois being disassembled for repair. Over a period of three months, the RJ team repaired the chassis, re-skinned the entire car, performed paint and body work, wired, plumbed, and set up the chassis and delivered to Achenbach a turn-key racecar better than new. Achenbach and company then debuted the newly-re-built machine at the U.S. Street Nationals at Bradenton, Florida in January and scorched the 1/8-mile to the tune of a 3.64 at 204 mph.
That Achenbach was even racing in that very car again was one thing, but to come out of the trailer and run competitive elapsed times is a testament to the Joneses many years of preparing fast door-cars to run right out the back door of the shop — whether brand new or repaired after a high-speed hit. As the farmers Insurance television commercial says, Rick and Rickie know a thing or two, because they've seen a thing or two.
"The first thing we do is analyze the car…we take a look at it before we touch it, to see what can be saved and what cannot," Rick says. "Sometimes in a crash, a car hits the front, hits the back, flips upside down, it skids on it roof. So we know the front and the back are damaged, the roll cage is damaged, so you have to take an assessment first and see how much of a car can be saved. With Mike's car, it wasn't all that bad."
The elder Jones and longtime shop foreman JJ Coe will give a car a visual, use straight-edges, and crawl underneath to take a look how much damage there is. In general, any harm to the main hoop or the funny-car cage, because of the sheer number of bars connected to them, will raise serious red flags about the worthiness of repair. There and elsewhere, RJ adheres to SFI guidelines for splicing bars and other processes required to return a car to new.
"Mike's car turned upside down, so it definitely damaged some of the roof bars. The back of the chassis wasn't too bad, the middle had some damage on the roof. We assessed it and determined that we could fix it," Rick adds.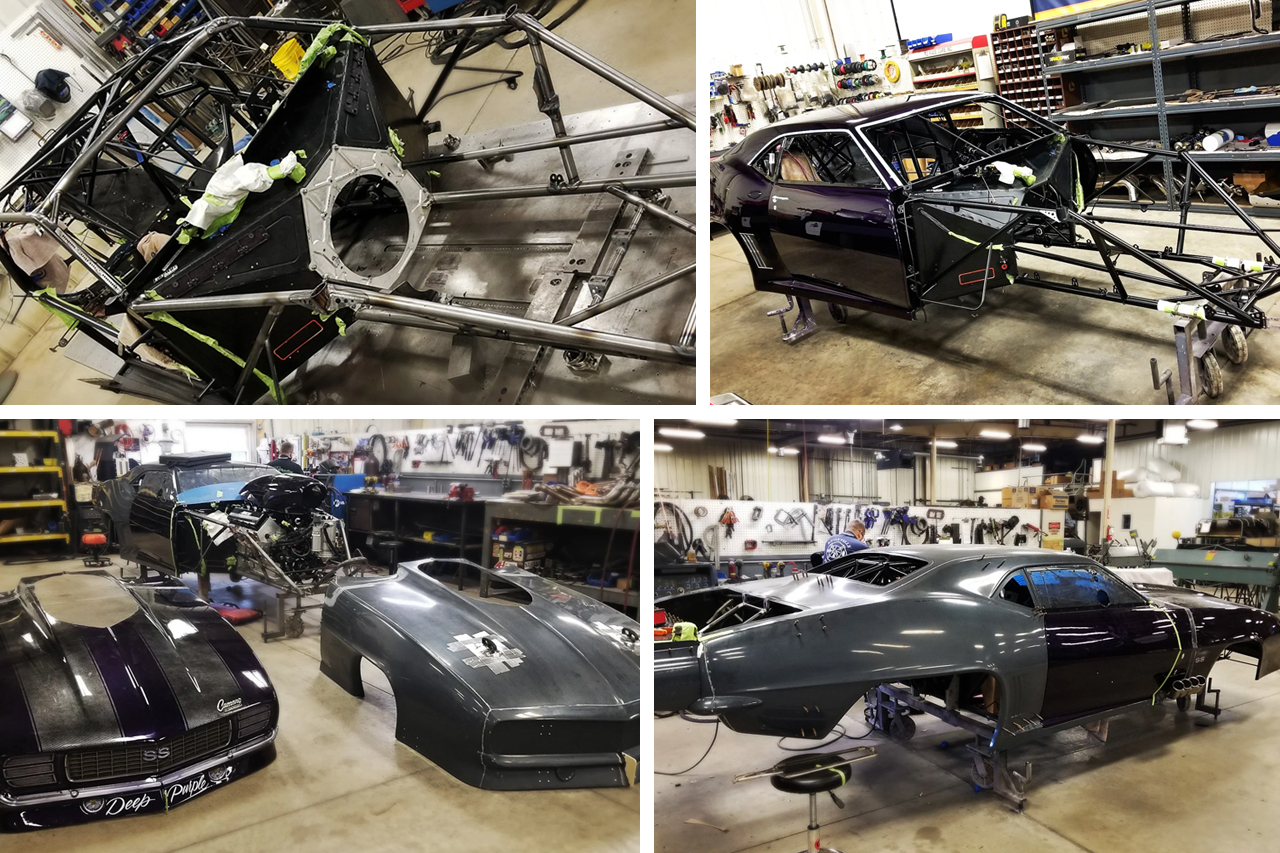 At that point, the chassis was placed on a jig and cut apart, removing all of the bent tubing and the damaged body (fortunately, the doors survived the ordeal). RJ keeps prints and drawings of every car on-hand so it knows where to position the car on the jig to return the wheelbase and all measurements back to original. The jig, a large surface plate that has been ground to perfect flatness, contains a number of "saddles", or fixtures, welded into place; after all of the tubing is replaced, if RJ has done its job to precision, the chassis will fit right into the jig.
"Before the car goes on the jig we'll do our visual and take some measurements, but it's when you put it on the jig that you really see how far off a crashed chassis is," Rickie mentions.
"When a car crashes, 90-percent of the time it's the front stub," Rick explains. "Sometimes it's the back, but it usually pirouettes and strikes the wall at the front, or rebounds and hits the other wall head-on. Mike's car got the front stub and damaged the body in the rear. So it's usually some roof bars and a front stub."
New front framerails and strut bars were affixed to Achenbach's chassis, and once whole, a new body was hung. As Rick notes, often not seen in impacts is the damage to the wheel tubs, trunk panels, hand-made rocker panels, and so on, all of which have to be time-consumingly replaced. Additionally, RJ replaces all of the rod ends after a crash, and sends the brakes, axles, and other key suspension parts off for inspection by the manufacturer. They also run a bar through the rear end housing to qualify it for re-use; the wheels are also checked on a balancer.
"We don't take a chance with the rod ends and A-arms…if they take a hit, we put new parts on them," Rick asserts. 'If that $30-50 rod end fails on a brand new car,after all that money was spent to repair it, then you're in the wall again. It's cheap insurance."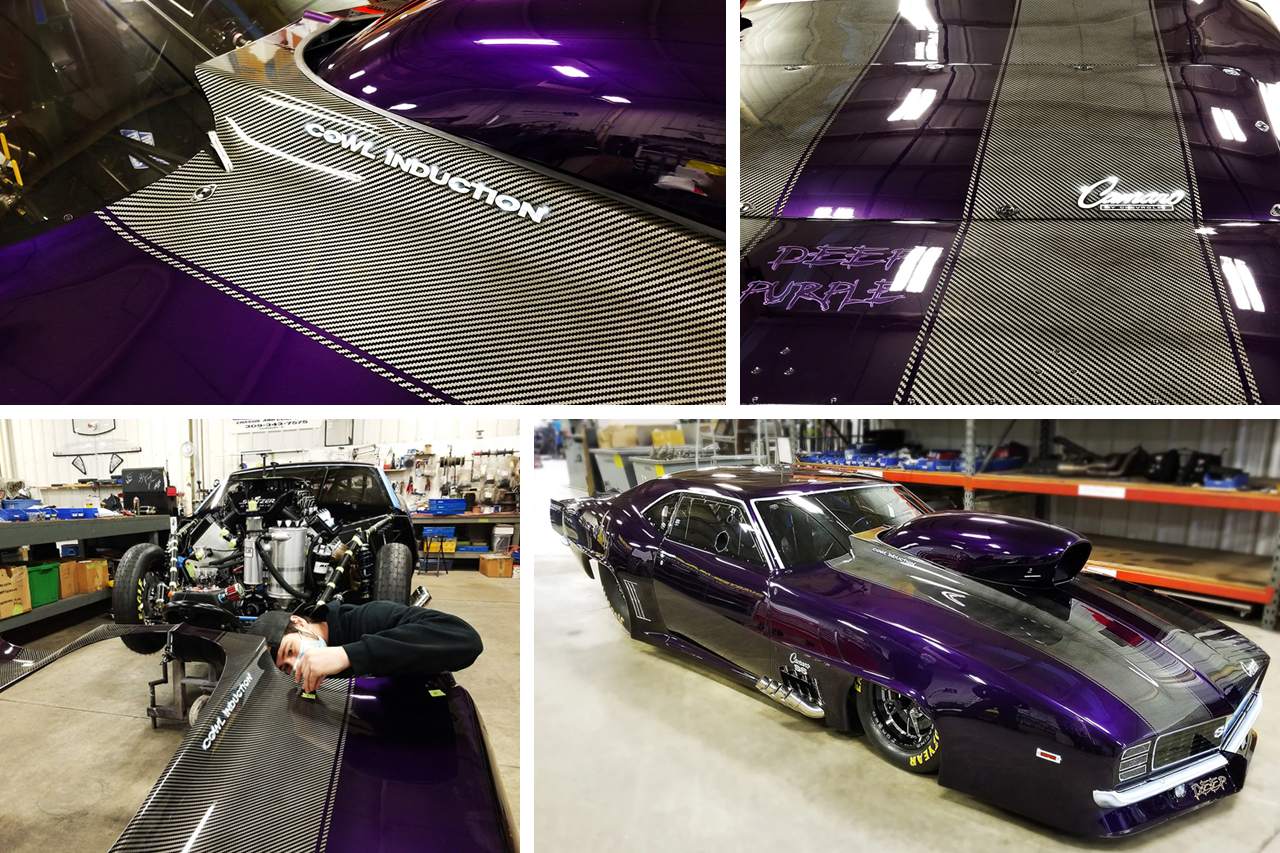 Rick shares there are "hundreds and hundreds of man-hours" in a repair, adding that a rebuild like that following Achenbach's crash is "75-percent of the work of building a new car." In this particular case, the time necessary to procure a new body, three weeks spent in the body shop for body-work and paint, reassembly, and waiting on parts to arrive from their respective manufacturers means that while fixing a car takes time, it certainly ensures the job is done right.
"What you're down to, after everything is cut off, you have a chassis from the firewall to the back — and you still have to fix some bars in the roof — you have the rear suspension and the front suspension to replace; we kept the doors and one of the front ends, so 3/4 of the body is replaced; there's some you're keeping, but so much of it is new. It's a very long process," Rick says.
"When a car is done, it's the same as it was…it's all brand new. It's just as good as it was, it performs just as good as it did, maybe better, and to your eye you can never tell it was fixed. It's never cheap, but when it's done it's repaired correctly, and the car usually goes right back out and performs. And Mike's car went out and went right down the racetrack; he called me right when he got back and said he could take his hand off the wheel it drove so straight and true. He was just ecstatic."

"When we send a car back out, we do everything in our power to set the chassis up and ensure it handles right. We want it to be as good as it was one day one. That's what makes us feel good, knowing the car performed. Some people think we don't tighten all the bolts and we just give it to you and you have to go home and finish it and take it to an alignment shop and all that, but when we send them out, they're usually ready to go race. These cars can't just be 'okay,' because someone's life is at stake," Rick says.
The Joneses don't just fix cars, they race them, as well, and they've been in Achenbach's shoes.
"When you crash a car — like we have personally — you come back to the trailer, it's on a rollback, and you feel like your dog just died. You've just been through a whirlwind, your car is in a pile, and you're mad because you probably just lost the round, too," Rickie says, as Rick adds, "It all happens in a split second, and you get back to the trailer and it feels like your whole world has just dumped on you. And here comes your car, and they're making a pile of parts, and you're trying to figure out how you're going to get it in the trailer. It's a lot of anguish for the driver and the crew. It's easy to get beat down."
"To me, as a racer, my crash was the lowest moment in my career, period," Rickie says. "When people are in that moment, we're here to help lift them back up and get their car fixed. Don't be frustrated and quit. It breaks a lot of people's hearts to see their car, their baby, a member of the family, like that. When that happens, know that we're here, that we have this service, and that we can take almost anything that's been crashed and build it back to new."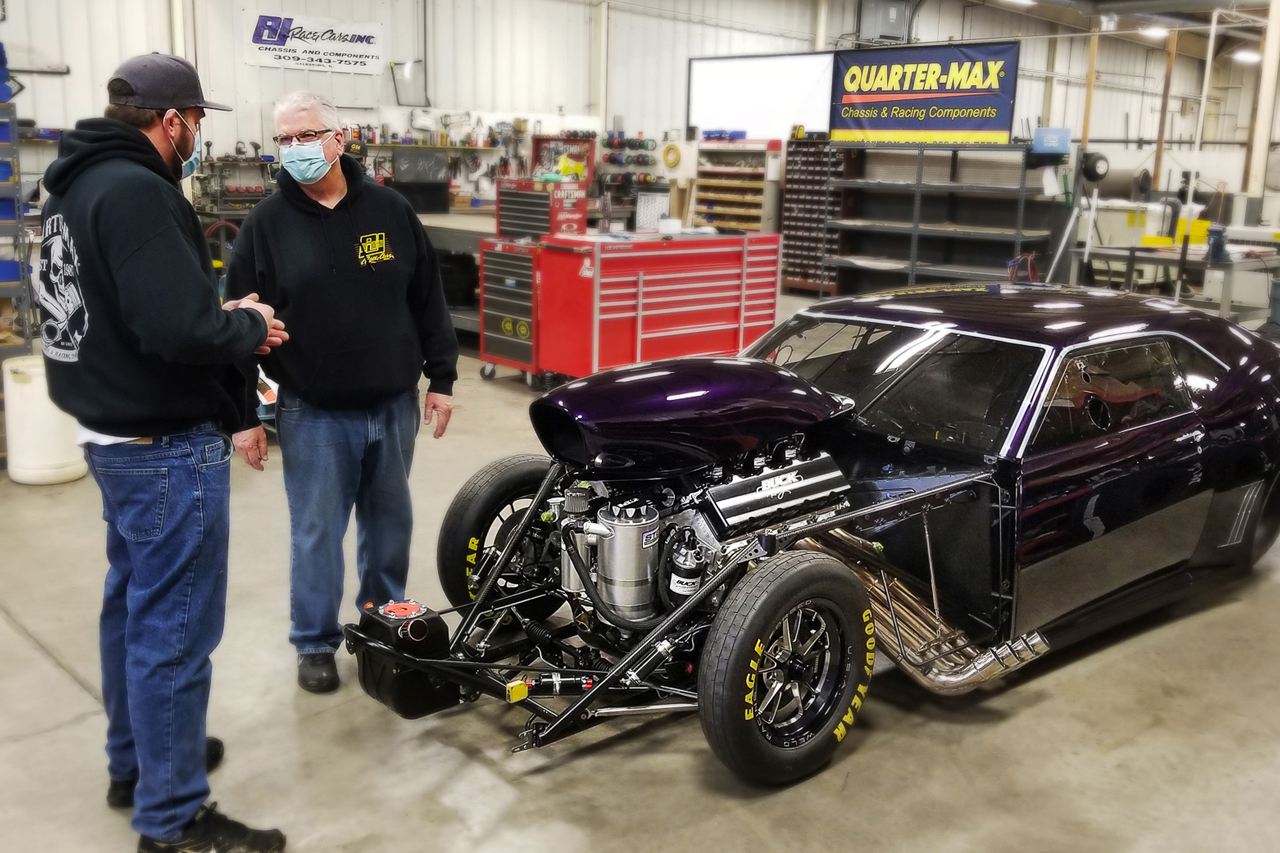 Like all of us, the Joneses would prefer to see every driver safe and every car unscathed, but things happen in racing, and they aim to be there when a customer needs it most.
"We'll handle it for you, and when you come get it, it will look like it did on the first day. A crash is never good, but all we can do is help get people back to racing and erase that memory," Rick says.
Recent Posts
PELKARSKY DOMINATES PRO OUTLAW 632In one of the best weekends ever for the PDRA's Pro Outlaw 632 cla …

Northeast Pro Modified racer Mike Achenbach made a successful and impressive return to competition i …

With a long history of success in the Pro Stock and Pro Mod ranks, RJ Race Cars and Quarter-Max have …