Scott Oksas started his Pro Mod career 10 years ago with the hopes of putting together a competitive program.
A decade later, he now has a win for the ages.
The Los Angeles-area native benefitted from some first-round luck against Stevie "Fast" Jackson and then rode a string of three straight incredible runs in his turbocharged RJ Race Cars Ford Shelby Mustang. That included a event-winning blast of 5.882-seconds at 247.38 mph in the final round against Doug Winters to claim victory at the third annual Drag Illustrated World Series of Pro Mod presented by J&A Service, Elite Motorsports, Big O Tires and benefiting One Cure at Bandimere Speedway.
With that comes a $100,000 check, a WSOPM championship belt and, by far, the biggest moment of Oksas' Pro Mod career.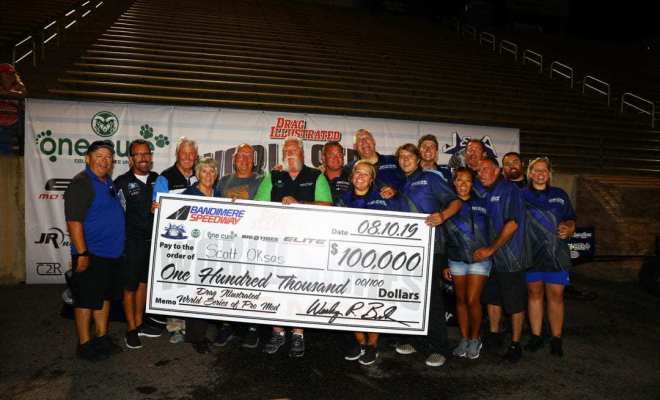 "It's just pure excitement," Oksas said. "This is just giant. I've busted my ass for 10 years doing this Pro Mod stuff, I've worked so hard and I can't believe I'm standing here, I really can't. To win this, it's always been a passion of mine to win something like this. I can't even describe it. It's just overwhelming, it's crazy."

Oksas and his team were full of excitement in the winner's circle on Thunder Mountain, celebrating a moment he never expected when he made his WSOPM debut a year ago.

Since then, Jeff Pierce came on board as the tuner and the progress with the Mustang, which was delivered just weeks before the race last year, has been remarkable. Oksas ran between 5.86-5.88 over the final three rounds, outrunning Winters and his blown '69 Chevelle in the winner-take-all round.
Oksas and Winters posted identical .053 reaction times, but it didn't take long for the Mustang to pull away. Once Oksas saw the win light, the celebration was on as the veteran excitedly yelled, "I just won $100,000" several times in the car before it stopped.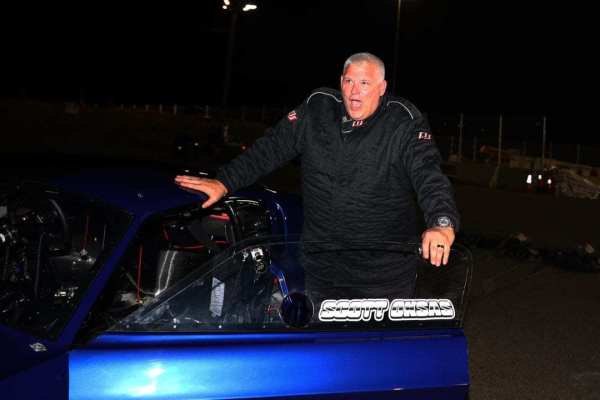 "I knew I was going to be ready. We had been pulling in and lighting the beam first all night and we had a gameplan with everybody," Oksas said. "Jeff said just keep doing our thing and we just did our thing.
"I don't panic anymore and the run was dead straight. I saw him next to me and at the 330 I just started to pull away. I knew he wasn't catching this turbo car."
Oksas figured it might have been his night after slipping past Jackson, the NHRA Pro Mod points leader, in the first round after Jackson went red by .020. That threw away a 5.932 – the quickest run ever by a blower car in Denver – and handed the victory to Oksas, who went 6.071.
"That guy is a world-class racer and that was the most scared I've ever been in my car," Oksas said. "But after that it was just sweetness. He red-lit and I knew after that we were going to do our thing and win this thing.
"That was my lucky pass of the day and I needed that. Then, Jeff took over and he literally didn't touch it from that pass in. It was crazy. He said, 'We've got a hot rod. Go send it.' I told him no problem."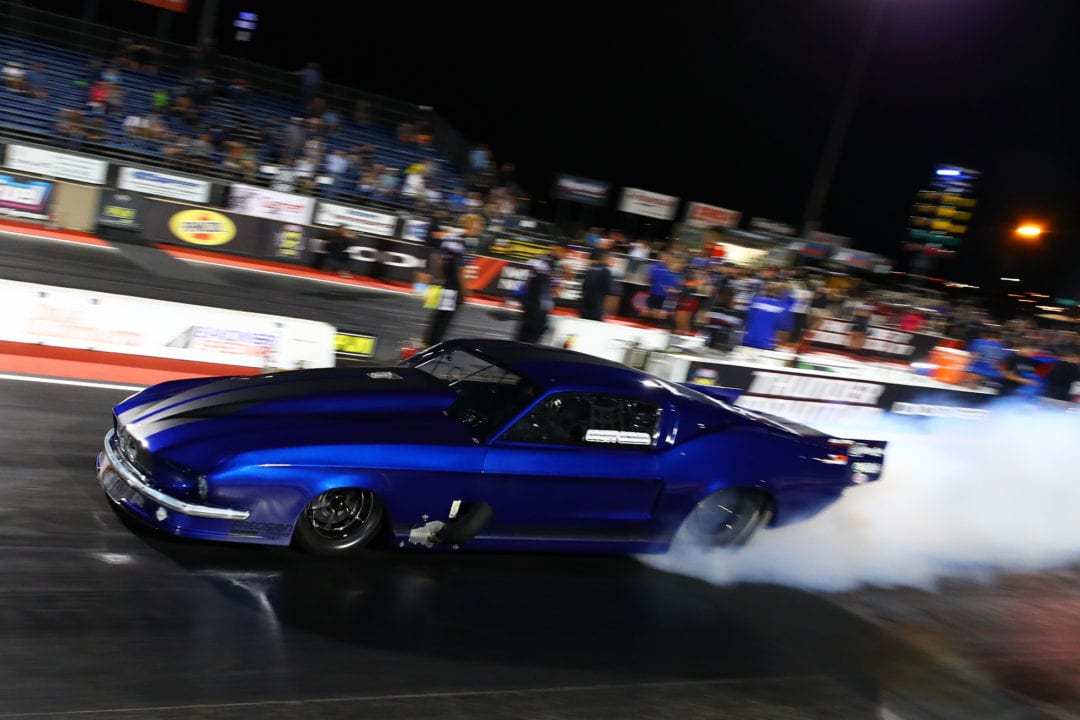 From there, it was game on and Oksas and his Mustang delivered one massive blow after another. He went a blistering 5.863 at 247.57 to beat Rick Snavely in the second round, topping Rick Hord in the semifinals with a 5.872 at 247.79.
That set up the meeting with Winters, who went 6.012 at 231.56 to beat Terry Haddock in the opening round. Winters had byes in the next two rounds after defending champ Carl Stevens Jr. broke and couldn't make the second round call, but nobody could match Oksas' pace.
"We said, 'Let them come beat us,'" Oksas said. "You can't ask for anything better than how we ran. It's just a tribute to Jeff and this entire team."
Oksas, though, was confident in the weeks leading up to the event, knowing the improvements his team has made in the past year.
By the second run in testing (5.96), he had already surpassed what he ran on Thunder Mountain a year ago, improving to a pair of 5.92s on Friday. A day later, Oksas' confidence and belief he could win was fulfilled, capped off by an epic winner's circle celebration.
"He doesn't go into this to lose and he's happy no matter what, and he kept telling me we were going to win," Pierce said. "This morning I woke up and just had that feeling. We had that lucky around against Stevie, and then we fixed one problem and tried to keep it consistent. The car's been great and has been straight as a string. It's pretty incredible."
Interested in owning a championship winning RJ Race Car like Scott Oksas? Give us a call at 309-343-7575. #RJRCTOTHETOP
Recent Posts
Rickie from RJ Race Cars shows you what's in the box when you get a set of Intercomp RFX Wireless …

Congratulation to Steve Robinson on his win at NHRA's National Open last Saturday! The car ha …

How to Install Quarter Turn Fasteners …