PRO NITROUS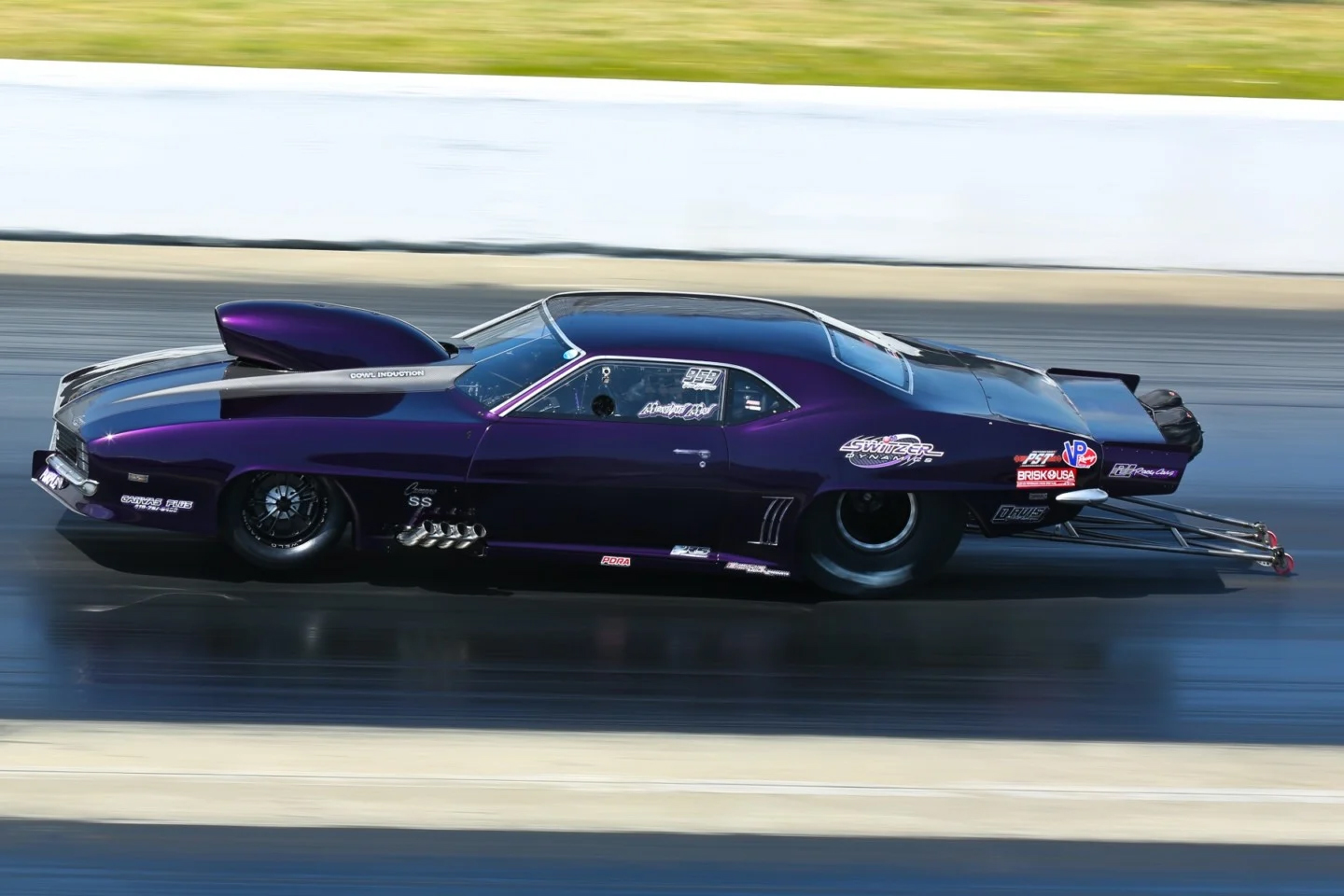 RJ Race Cars/Quarter-Max built Camaro
"Mountain Man" Mike Achenbach once thought he wouldn't run in PDRA Pro Nitrous because the competition was so tough, but after now winning two events over the last year, he's proven that he's one of those tough competitors himself. The Pennsylvania native recorded a weekend-best 3.668 at 206.80 in his Brandon Switzer-tuned "Deep Purple" '69 Camaro in the final round to knock out nearby Smithfield, North Carolina's Jay Cox in the final round. Cox slowed to a 4.366 at 127.33 in the runner-up effort.
"This win means a lot," Achenbach said. "We struggled with the car at the end of last year. We took it to Brandon [Switzer]'s shop, went over it, did some different things to it, and I think he's got a handle on it now. We'll see what happens. I'm so new at this out here. I said I would never really run over here because it's the best of the best. I started over here last year at a couple races and really liked it. It's a family-oriented deal. I just love it."
Achenbach qualified fifth and started eliminations with a 3.726 at 203.58 victory over Dane Wood's 3.761. He ran in the 3.60-second range for the rest of race day, running a 3.689 at 205.04 to knock out Chris Rini in the second round and a 3.672 at 206.57 to eliminate two-time world champion Jason Harris and his 3.75 in the semifinals.
Cox, who tested extensively at GALOT Motorsports Park over the offseason, qualified third in his Musi-powered Butner Construction "Pumpkin" '69 Camaro. He ran a 3.725 to beat John Vergotz in the first round, a 3.695 over teammate Marcus Butner in the second round, and a 3.693 to drive around Fredy Scriba in the semis.
PRO 632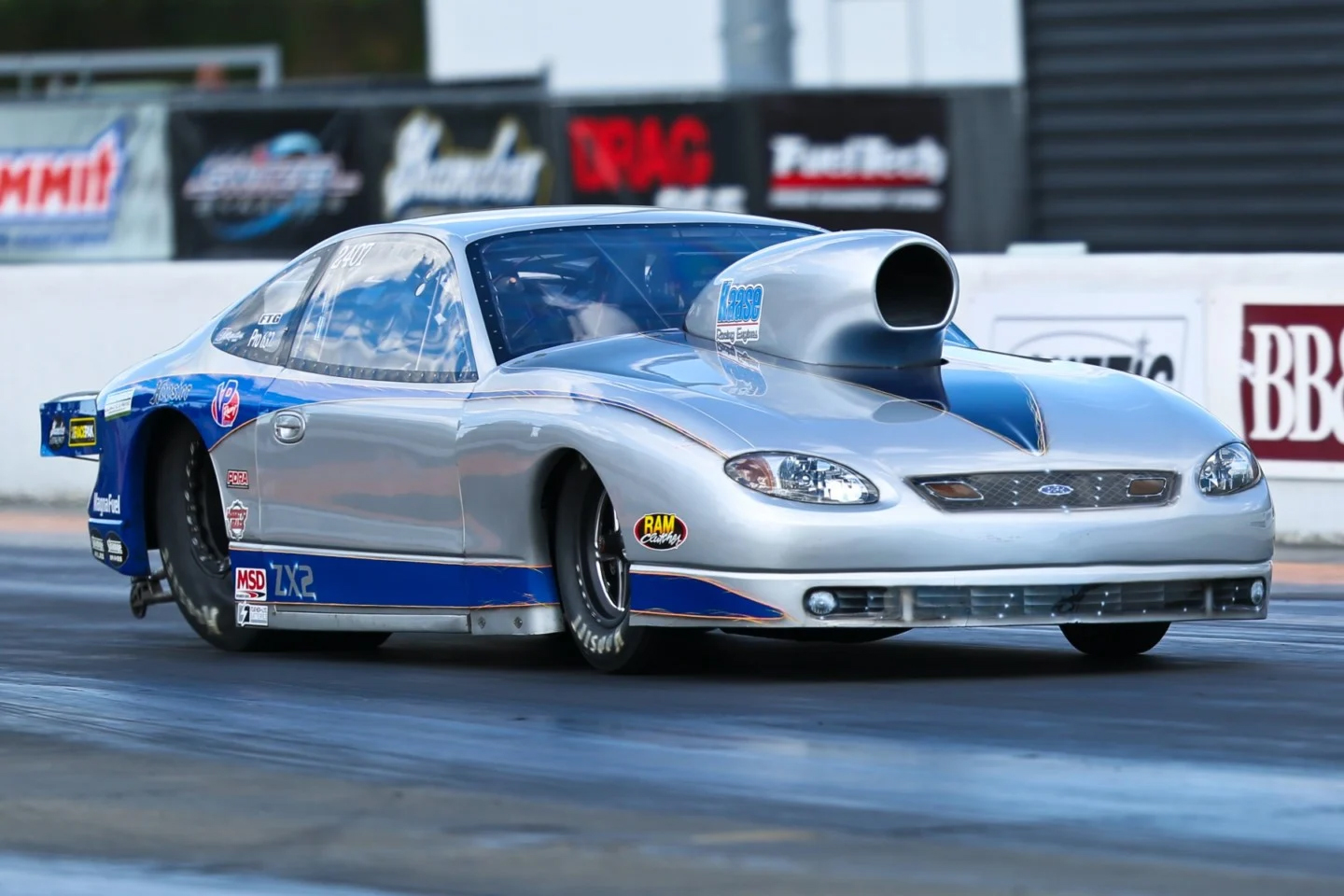 RJ Race Cars/Quarter-Max built Ford Escort
Making his Pro 632 debut, Orlando, Florida's Alan Drinkwater put the class on notice with consistently quick reaction times and an equally solid Kaase-powered '04 Escort prepared by two-time Pro 632 world champion Johnny Pluchino. Drinkwater raced past some of the toughest drivers in the class to win in his debut, ultimately running a 4.213 at 169.64 in the final round to finish ahead of Walt Lannigan Jr.'s 4.208 at 169.59. It was Drinkwater's third holeshot win in four rounds.
"It's a dream come true," said Drinkwater, who thanked car owner Kenny Floid, John and Johnny Pluchino, and cousin and crew member Preston. "We had all the right people around us. Just the right place at the right time. The engine, 'Gambini,' was already in another car out here, Johnny's old 632 car, so it's back. We're just glad to be able to put it in the winner's circle. We had all great guys around us. I tried to do my job the best I could and we got the best of everybody today."
Drinkwater recorded a 4.181 at 169.66 on a first-round single, then left first on Daryl Stewart to win with a 4.183 at 170.00 over Stewart's 4.142. It took Drinkwater's best performance of the day, a .017 light and a 4.17 at 170.26, to get the semifinal win over Amber Franklin and her 4.12.
Lannigan was making his return to Pro 632 competition as the new driver of $hameless Racing's Musi-powered '68 Camaro, which won the last two world championships with Wes Distefano driving. Lannigan and tuner Troy Russell picked up where Distefano left off, qualifying No. 1 and charging through eliminations. He used a 4.215 to beat Mike Murphy, a 4.14 to defeat Lexi Tanner, and a 4.111 on a semifinal bye run to earn lane choice for the final round.
Recent Posts
From the last race of 2021 until the week of the first 2022 event, rules were changed and adjusted a …

Hollywood movie producers couldn't have written a better script for four-time Pro Stock world champi …

PRO NITROUSRJ Race Cars/Quarter-Max built Camaro"Mountain Man" Mike Achenbach once thought he wouldn …