Hollywood movie producers couldn't have written a better script for four-time Pro Stock world champion Erica Enders Sunday.
Enders, a native of Houston, won the final race at Houston Raceway Park, beating rookie Camrie Caruso in the finals.
Enders clocked a 6.568-second elapsed time at 210.24 mph to defeat Caruso's 6.624-second lap at 209.26 mph.
"I don't know if I could put it into words, honestly," Enders said about the emotional win. "I have so many wonderful memories at this racetrack. Starting before I got behind the wheel, watching our dad drive and I grew up with a lot of the people who won in the Sportsman class today. It was an unbelievable day. I made my first passes in a Junior Dragster at this racetrack. I won my first national event Wally in Super Gas here (in 2004). I think this was our third Pro Stock win here with a few more final round appearances as well. This is huge. The roar of the crowd of Houston Raceway Park when you turn on win lights is like none other.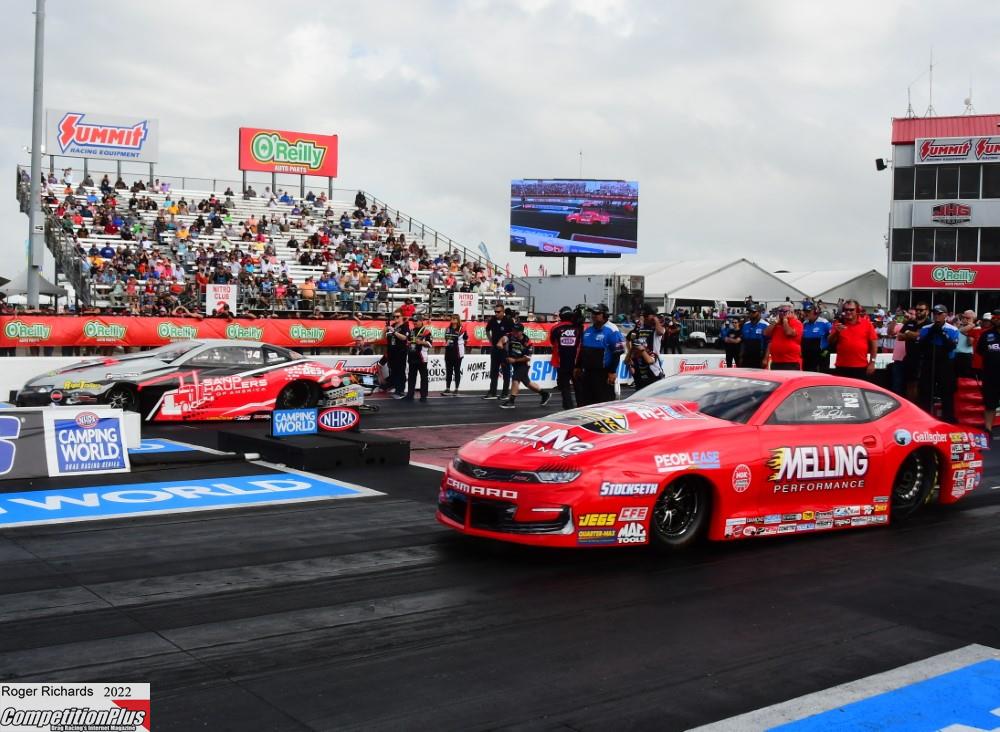 "The Angel family, the people who owned the track, Junior drag raced with us at the track. It is a little bit of an emotional day because it is the last time we will ever have the chance to come here, but I'm glad we went out with a bang. It is so cool that it had such an epic finale here at a place that is so near and dear to my heart."
Houston Raceway Park is closing following the 2022 season.
This was Enders 36th career Pro Stock national event win. She has now won two races in a row as she captured the title at the Four Wide Nationals at the Strip at Las Vegas Motor Speedway, April 3.
Enders, who won world championships in 2014-15 and 2019-20, beat Christian Cuadra, Matt Hartford, Kyle Koretsky and Caruso, who was the No. 1 qualifier.
"It was definitely challenging to get the focus aspect under control today," Enders said. "The day didn't start as planned for me, but it ended as planned and that is all that matters ultimately. To be here in front of the hometown crowd, before first round, my sister and I walked up just outside the guard wall and the starting line, and we took a picture with the packed grandstands in the background. After we got the trophy, walking back to the winner's circle, looking up at the tower knowing this is the last one."
"You can go back through my career and look at the major moments, the ones that really matter, and with the great group of guys standing behind me we have been able to execute every single time. This is one of those super proud moments. Before we pulled in the water box in the finals, I saw all my Sportsman buddies who had won. A ton of Houstonians won here today. I just had to go up there and do my job and we were able to do it."
If there wasn't enough going on Sunday, this was the first time two women raced head-to-head in a Pro Stock final.
"The final round was very cool, especially being at my home track," Enders said. "The first Junior Drag Race I won was an all-girl final back when I was 8 years old. That was fun and this is huge for Pro Stock. I was the only (woman) out here for 18 years and Camrie worked for our team for a small stint a couple of years back. It was a cool deal."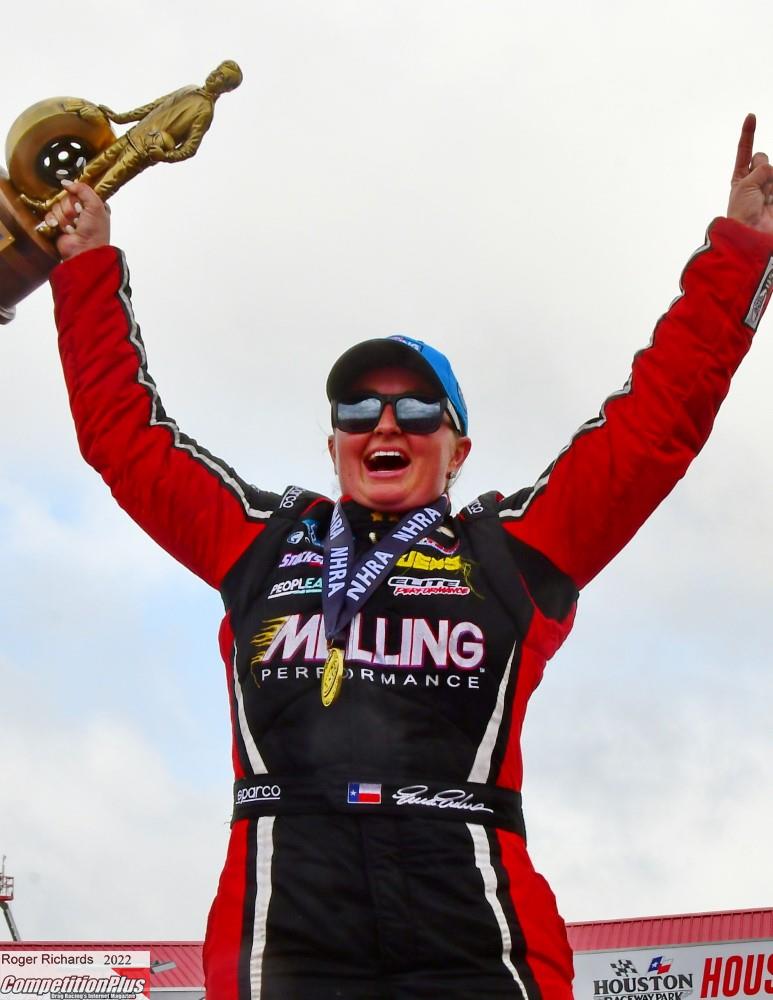 "On the other side of it, we have worked really to not be talked about as anything different. We wanted to be viewed as a driver that is my ultimate goal. I don't want to be the best female driver. I want to be the best driver period. I think if you go down the list of stellar female athletes we have in this sport, they will tell you the same thing."
Enders also took time to address her mindset when she lined up against Caruso in the finals.
"My deal in my cockpit, is all about us, our car, our lane," Enders said. "I'm completely focused. I don't give a crap who is next to me. But, stepping out and looking at it when I was 20 years old, I got my Pro Stock license, and I was a few years younger than she is now. I remember coming into the class, a class I watched growing up I sat in the living room in a laundry basket pretending to shift a Pro Stock car. Then, you are in a Pro Stock car in the final round against Greg Anderson, Jason Line, Jeg Coughlin, Warren Johnson and all these people I grew up watching who are legends of our sport.
"I totally get her mindset because I remember that. That's part of growing as a driver and being able to dismiss the emotion involved in it. We had that stuff happened at the top end during qualifying and she was crying, and I told her to look at me. I told her, 'Let's focus on your No. 1 qualifier. It is the first ever. Look at the positive things and do not let these people see you cry because when I cried, they tear you apart. It's unfortunate you can't show emotion but suck it up and do it in your trailer. I feel like there's a lot of advice to be given and lessons to be learned as she acquires a thick skin and does a good job."
Recent Posts
From the last race of 2021 until the week of the first 2022 event, rules were changed and adjusted a …

Hollywood movie producers couldn't have written a better script for four-time Pro Stock world champi …

PRO NITROUSRJ Race Cars/Quarter-Max built Camaro"Mountain Man" Mike Achenbach once thought he wouldn …